Tuscan "Hills"
After three days of taking it easy, we thought, "Why not hire bikes for a day and go to San Gimignano for a gelato?" Why not indeed. Because it was going to be a 80km day and we didn't want anything too strenuous, we decided to catch the train to Poggibonsi (pronounced ponjibonsi) and ride from there, so it would cut the journey down to about 50 kms.
Our first mistake was to catch a train. Ray decided to queue at the only manned counter, to ask about the bikes. 30 minutes and two missed trains later, we had tickets. Apparently an American group in front of him are still there talking to the poor ticket man. We waited on platform one for the next train, only to discover that it departed from platform 4. We saw it leave. So another wait meant that we had wasted 90 minutes at the train station, and then we nearly didn't get the train as we hadn't validated our tickets and we hadn't paid extra for the bikes. The ticket man hadn't mentioned an extra cost, but after a mad rush we were finally on the train with our bikes.
the Tuscan terrain is rather hilly and it would have been an excellent idea to have great gears and plenty of them. However, the bikes had wheels and mine had a bell. After wandering around Poggibonsi for half an hour trying to work out the few gears and how to exit the town, we were on our way, on a good road out of the place. That didn't last long. We turned off the road onto a dirt track that went up, up and up to San Gimignano. I was beginning to regret the great idea. Finally, we reached the place and found the gelato shop that everyone raves about. They didn't have orangia, so I settled for almond and orangia, which wasn't to my liking. However, Ray thought it was really good.
Despite my suggestion that maybe we should return to Siena via Poggibonsi and the train, we went back down the very steep dirt road (only one of my brakes was working) and along some dangerous busy road (no verge) and along some dirt track which is part of the Camino de Francesco (similar to the Camino in Spain, only not so well frequented) and up bloody great hills and through cobbled villages and on and on until if I saw another hill I was going to cry or kill Ray, who wasn't very happy because we had to ride most of the way on the busy road.
Miraculously, we made it back into Siena at peak hour, and back to the bike shop before they closed at 7pm. It was only a forty minute walk home from there. What a wonderful day.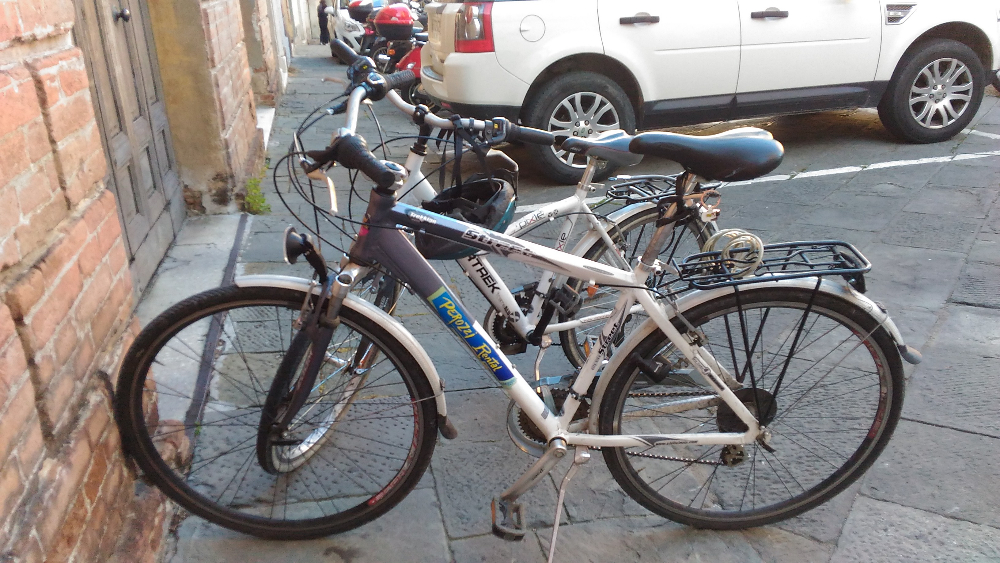 Our mode of transport were these two hire bikes. Always beware of bikes you hire from a shop that sells thousands of spare parts for scooters and the hire manager, upon learning that the helmet had a small clip missing, threw it in the bin just after she uttered the words, "I think we will have to repair that helmet". Take note of the rental company name on the bikes and avoid them when in Siena.
By the way, we didn't take any pics of Poggibonsi, as the name is more interesting than the town.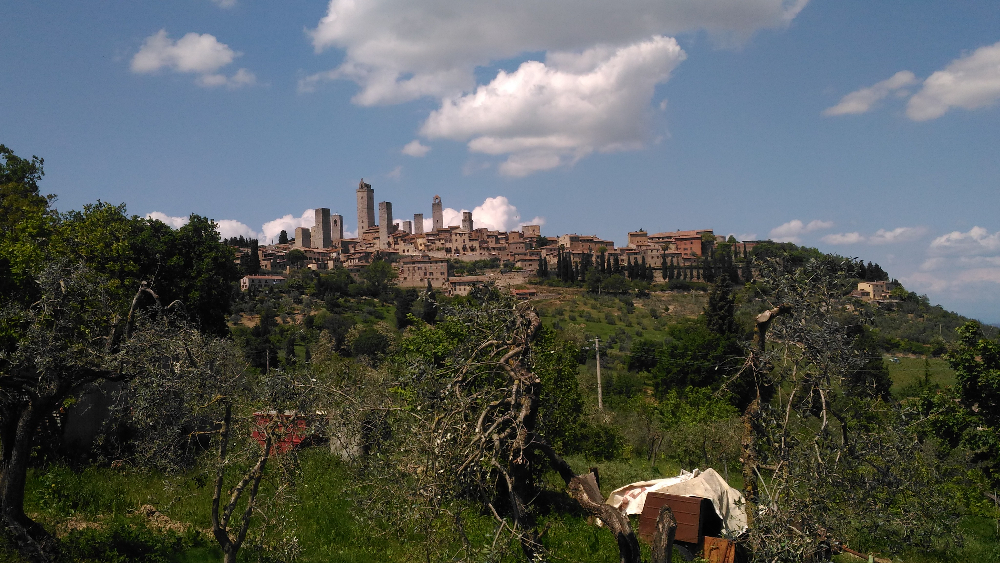 There's gelati in them thar hills! The town of San Gimignano from half way up the hill.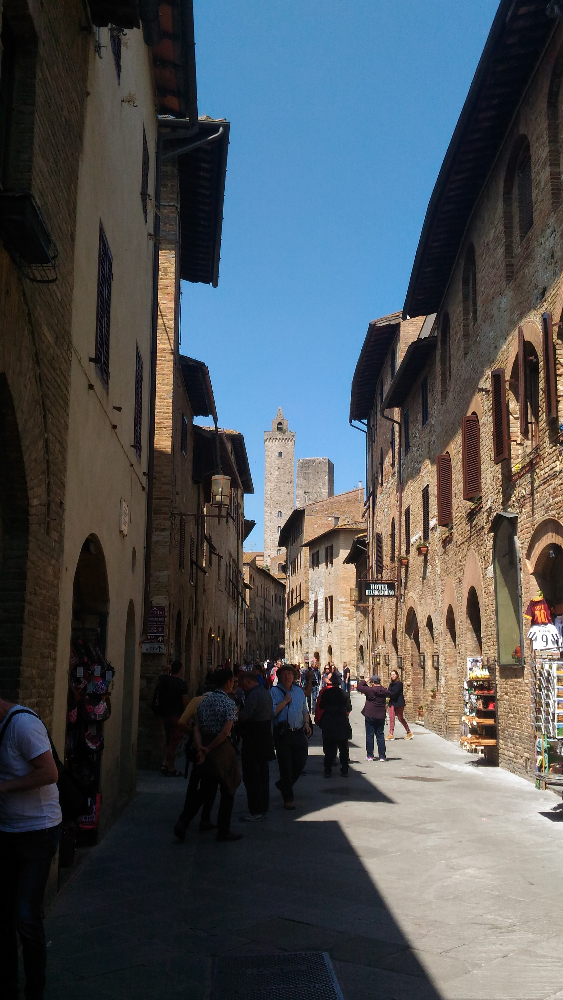 It was somewhere in this street that we had one of the best pizzas that we had in the entire trip. This was from one of the many "Pizza Bars" that proliferate. For the uneducated, these pizzerias cook up massive square pizzas and might have up to a dozen different flavours displayed in their cold display. Whilst some sell them by the piece (and some have the round pizza shape) many, especially in the smaller towns and villages, will sell them by weight, so they just cut off whatever amount you think you can eat. They then heat it up, either in a special section of the pizza over or in a small grill with heat top and bottom. Always good value.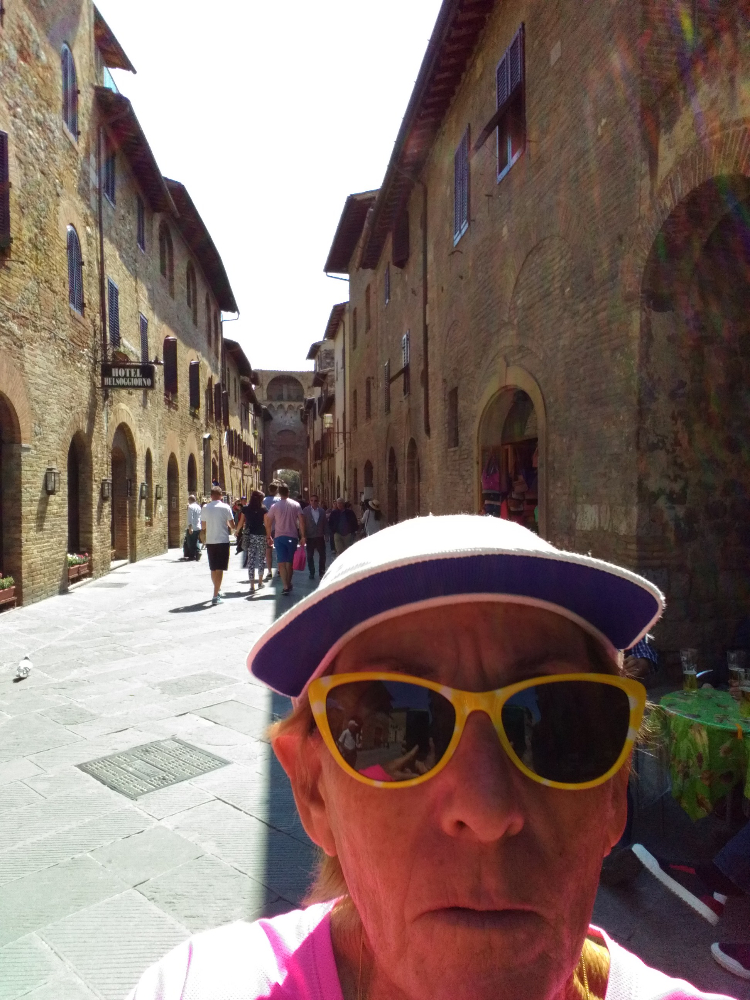 Brenda got so tired from her ride up the steep strade bianche into San Gimignano, that she forgot to turn the camera around to take the photo, despite tremendous concentration.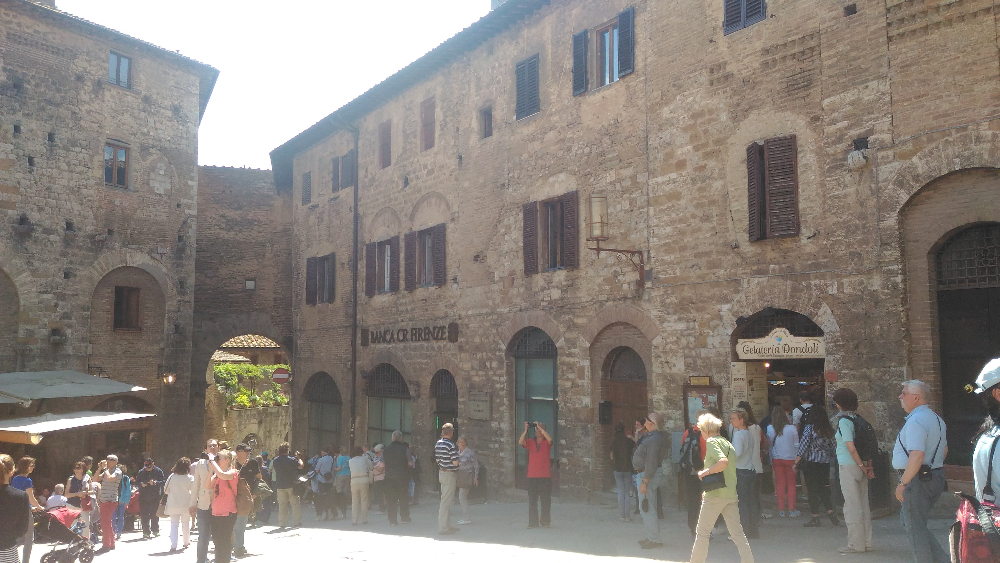 OMG, I think we hit the motherload! Take a look at the establishment on the right: Gelateria Dondoli, who proudly announce their in win the world gelati championships in the past couple of years, in the finer print on the sign. Another nearby gelateria, not wanting to be overshadowed by their more illustrious local rivals, proudly boasts on their sign, "Home of the world's best gelati". They fail to mention of course, that it is not their shop, but the one about 20 metres up the road. The shop can be seen on the left, but only those with extra powerful computer graphics, as seen in Hollywood blockbusters where they are able to make out number plates from space, would one be able to read their sign.
Ciao for now.
Brenda and the hill climber