Day 3: Eidsvold to Mt Perry. 20/6/2021
What's in a name? Bloody Mount, that's what. 80 kms and too many mountains later, we arrived exhausted at our digs for the night. After climbing 1,131 metres today, it's no wonder I'm ready for a big drink. I'm also celebrating a downhill record of 63.6 kph, which surpasses my previous record of 57.8 set in Melrose SA. It tells you something about the size of the hills.
We are staying in an old renovated picture theatre. Unfortunately the restaurant is not open tonight, but the owner invited us for a drink, before he leaves for the night. He is an interesting character. He bought the condemned theatre and turned it into a motel and restaurant and has done a great job. It would be a great place for a party. Any people who are interested in a mountainous bike ride, just let me know.
These country towns are very friendly. Ray struck up a conversation with a couple at the cafe this morning. He was looking for advice on the roads. Fortunately, they recommended the main road, so there was no chance of taking a wrong turn. Even so, when the large sign directed us to turn right to Mount Perry, we had to stop and consult his phone.
When we finally arrived, we had to have an ice cream at the local store, and were accosted by a local 83 year old who was up for a chat. If you need any history on Mount Perry, just hang out at the local store.
Tomorrow, I am assured that it will not be as hilly as today, and that it is all downhill. And, it is the last day. Woo hoo!
We were.
Riding up the hill to this masterpiece, i thought it was a dog. Then as I approached closer....
I looked to my left and then it all became obvious. Two near identical artworks.
More potential air compressor cylinder models.
You would never guess what I left back in the cabin...
More of the typical scenery we enjoyed on our cruise.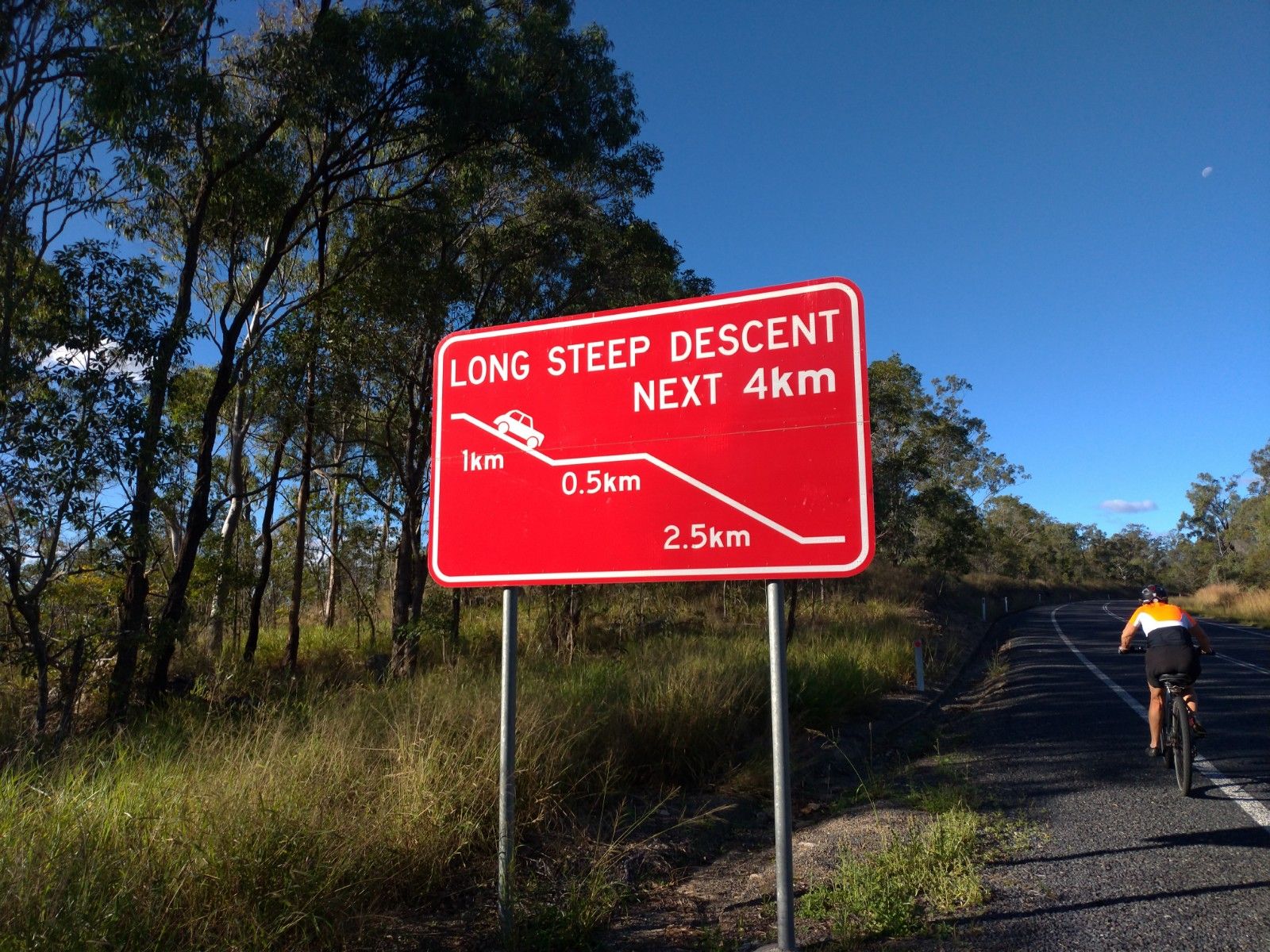 The moment we have been waiting for. FInally reached the top of 5 klm climb and ready to descend into the Mt Perry township. Unfortunately the sign was not quite right. The first downhill was nowhere near 1klm long and the flat bit had a hill (up that is). The 2.5 downhill was good but we could not let loose as the road surface was a bit iffy and the threat of cars coming past at 140klm/hr meant that we had to keep hard to the left meaning that we had to brake on the way down limiting our speed to 56klm/hr.
Riding Notes
Google maps indicated an initial ride on some dirt roads (Honeywell Rd) which would have met up with Kerwee Rd and taken about 3 or 4 klms off the trip. However after speaking with locals part of the road google suggests does not exist, so it would have been about the same distance but about 10k on a dirt road (possibly slightly fewer hills). We took the road via Ceratodus.
This is a pretty hilly day with a lot of ups and down. Google maps indicated a total of around 720 climbing mts but it actually turned out to be over 1100 mts.
If you go to Mungy at just over 50klms there is a servo and shop, but you have to go back down a hill a few hundred metres, so we decided against it. (It is near a T junction) Keep that in mind when deciding whether or not to be completely self sufficient, food and water wise, for the day
We were fortunate to have a slight tailwind for most of the day, although it was not the 20 - 30klm/hr wind we were riding into to the previous two days. Probably more like 10k/hr or less.
Be mentally prepared for the final climb just prior to going into Mt Perry. It's not the steepest, but it goes on forever and ever and just around another corner. It makes the decent into Mt Perry even more enjoyable.
We stayed at the Federal Inn, a repurposed picture theatre. A pretty good place to stay.
It also has a good local store, open long hours, and a reasonable pub.