Day 14: Wilpena Pound
ODinner in the dining room of the resort was a hoot, mostly because our fellow diners were a group of spotourists. There were about fourteen of them lined up at a long table as if they were about to conduct a meeting. And they did. The youngest, about 50 something commenced by asking if they could all hear him. Not a good sign, as I think two of them had already nodded off.

The object of the meeting, which was accompanied by dinner, was to fill in a checklist of over 200 items, seeing who had spotted which animal where, and how many times. It reminded me of an episode of The Detectorists. "Right, over the page, yellow tailed rock wallaby. Anyone? John, where exactly? Was that before or after the creek? How many? Are you sure it was a rock wallaby and not a euro? Andy, you saw it too? Ok, we'll put one. Now item number 206, black faced wallaby........."

On and on it went. Meanwhile two kangaroos (it may have been black-faced wallabies or euros) were waving outside the dining room window, to which the group was oblivious.

We played the game of spotourists the next morning when we went for a walk to an old homestead in the Pound, and onto a lookout. We spotted a yellow tailed rock wallaby, kangaroos, emus, kookaburras, crows, an eagle, feral goats and other tourists. Unfortunately we didn't have the obligatory checklist with us to join in that night's entertainment.

Even before our walk, we took an early scenic flight over the Pound. Ray got to sit behind the pilot in the six seater plane, so he could grab the pilot's seat every time we had some turbulence. It was stunning scenery. We really only had one day to enjoy it, so we figured that we could see everything from the air. An old guy (probably the same age as us) who also took the flight, had walked 25 kms up to the saddle of St Mary's Peak, the tallest outcrop in the Pound and in SA. He took the outside route, which pretty much looked like it was straight up, and returned via an "easier" inside trail. Lucky for me, Ray doesn't much like climbing, or we would have been on that track later.

It was a pretty hot day, so after our spotourist walk, we had an ice cream and retired to the pool. The wind and the heat were rising, and surprisingly, we didn't make it back onto the Mawson Track. We did make it back to the dining room, where the spotourists were conducting another riveting checklist meeting. The kangaroos were back at the window, still trying to attract attention, whilst the spotourists were still ignoring them.
We managed to devour the coat of arms (emu bruschetta and barbecued kangaroo) which was delicious. With all those feral goats about, I don't understand why curried goat was not on the menu. Now I have a hankering for some good Nepalese Dahl bhat.

Oh well, we are returning to Adelaide in the morning, courtesy of Genesis bus ways. A cool change and strong south westerlies are forecast, so I am thankful that it is a bus and not our bikes that will carry us home.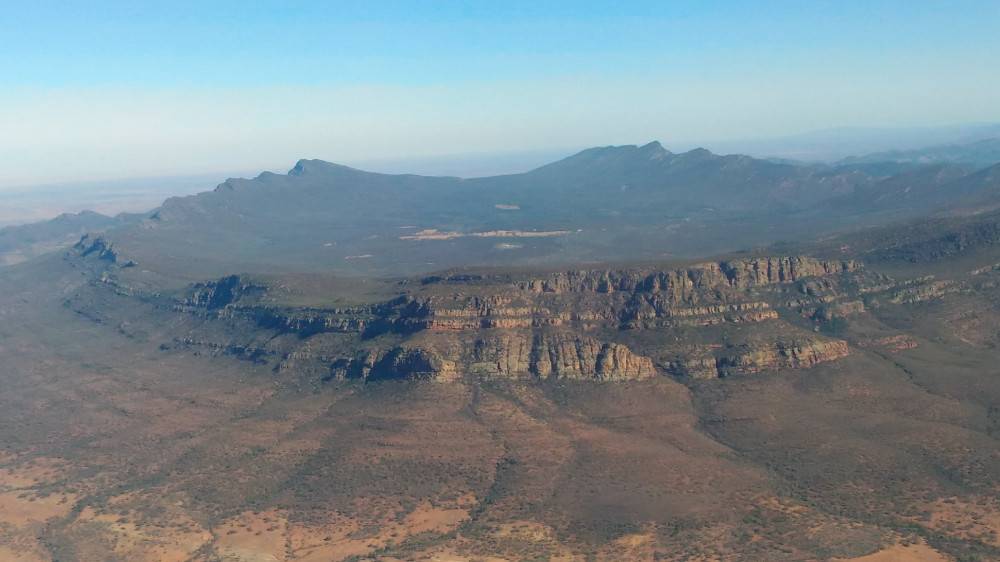 Wilpena Pound from the south from the aircraft at 4500ft.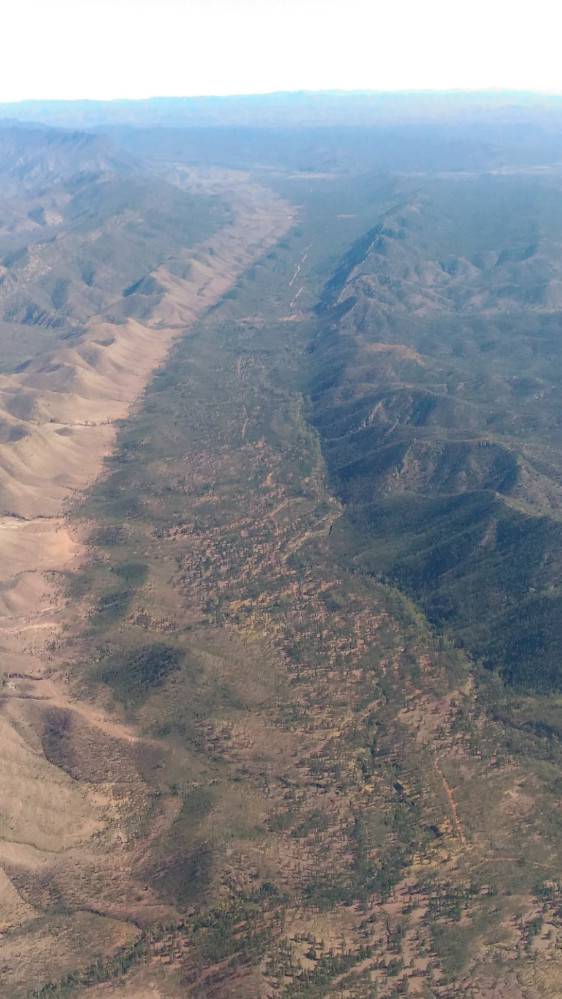 The 2 "Snakes" that are enshrined into aboriginal mythology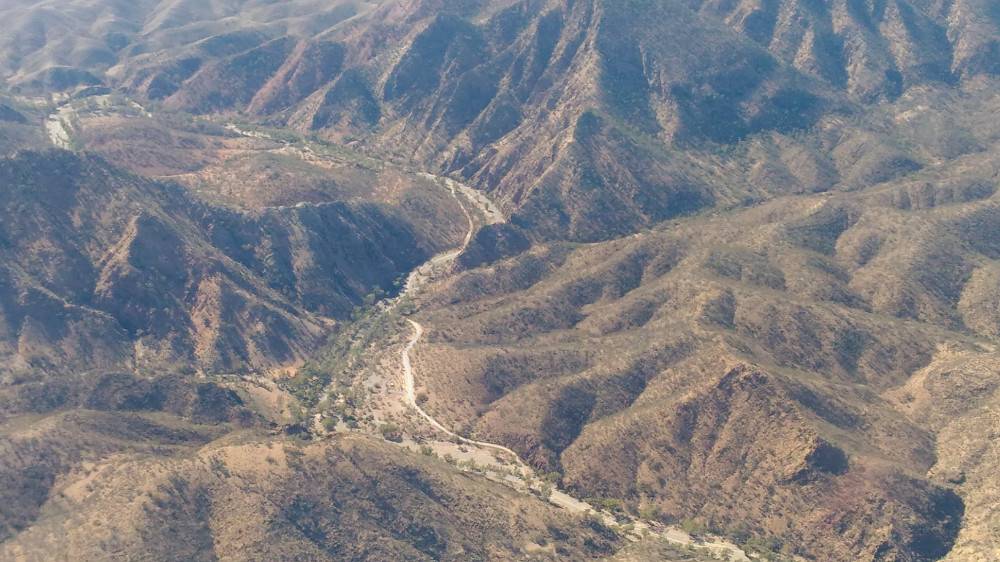 The road to Brachaina Gorge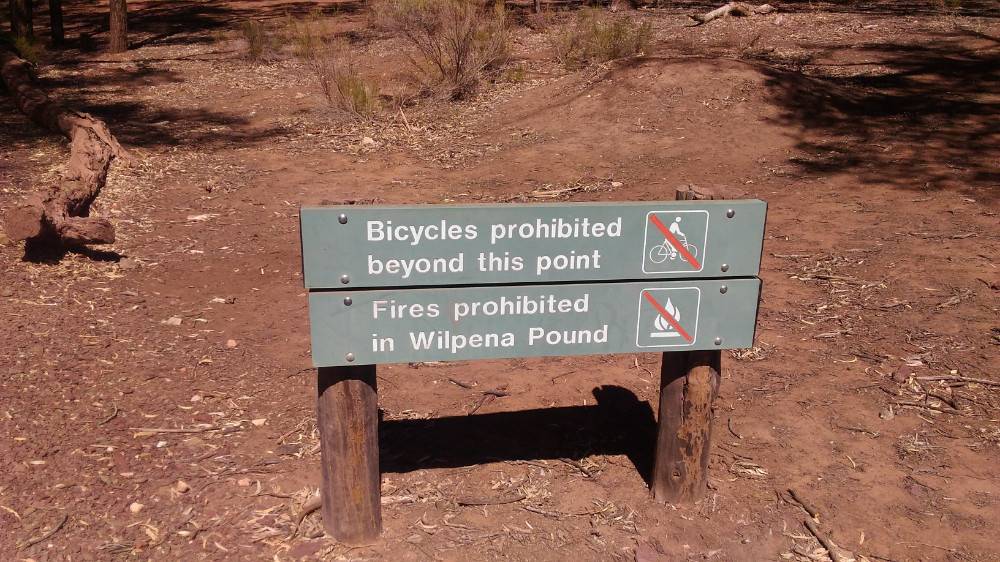 Whew!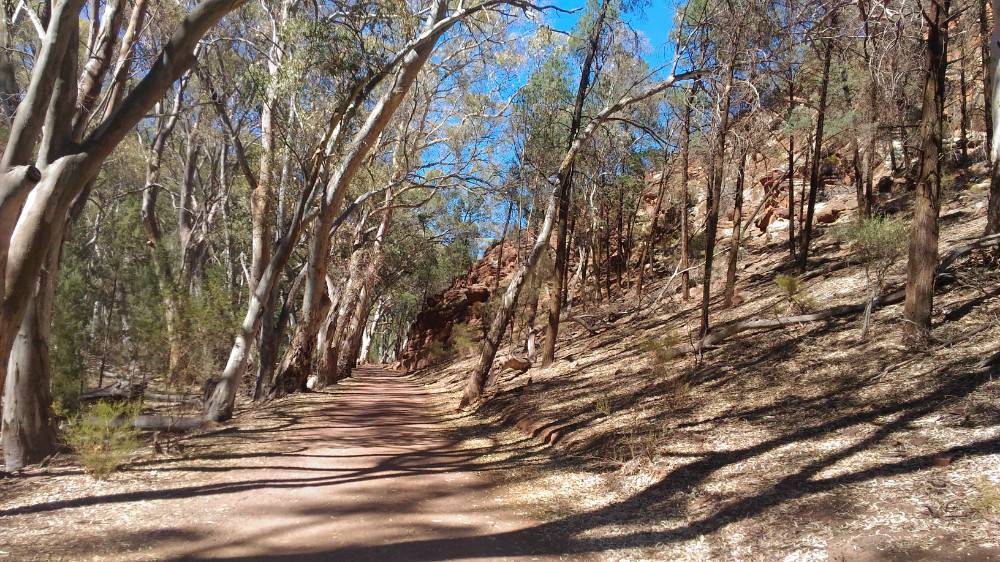 If only the cycle tracks were as good as this.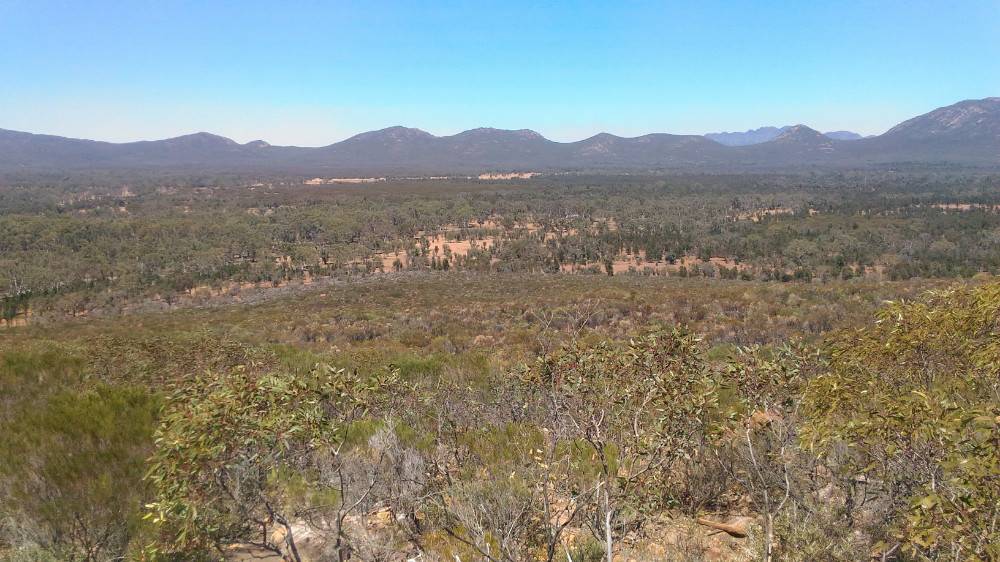 The pound taken from the low point of the pound edge on the northern edge at the high lookout. Not quite as good as from the plane. Can you believe they used to grow wheat in here. Ironically, they only stopped when one crop was wiped out by flood in the early 20th century. When viewing from the air, the marks from the ploughing of the fields from over 100 years ago can still be seen.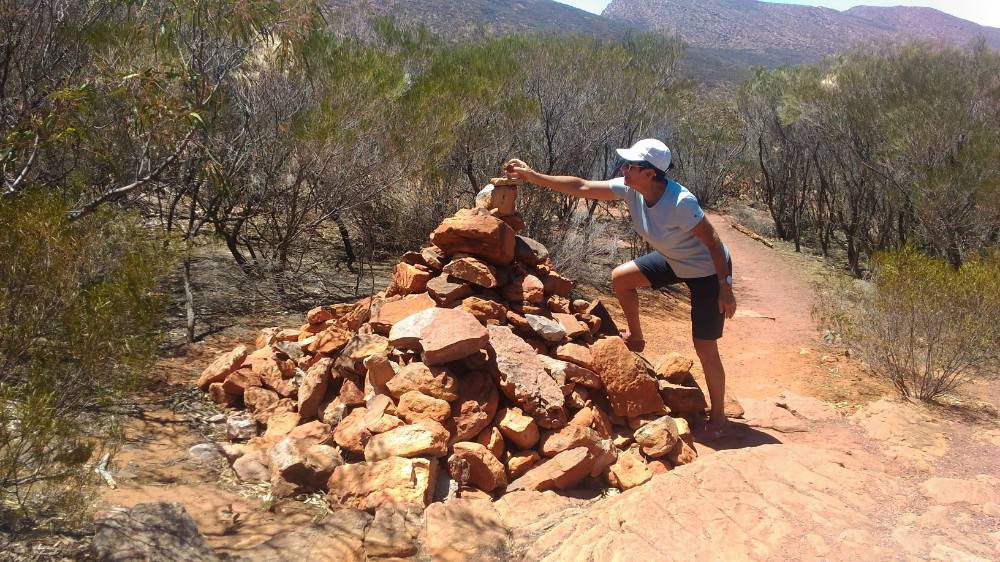 Brenda as always, wanting to do some cleaning up.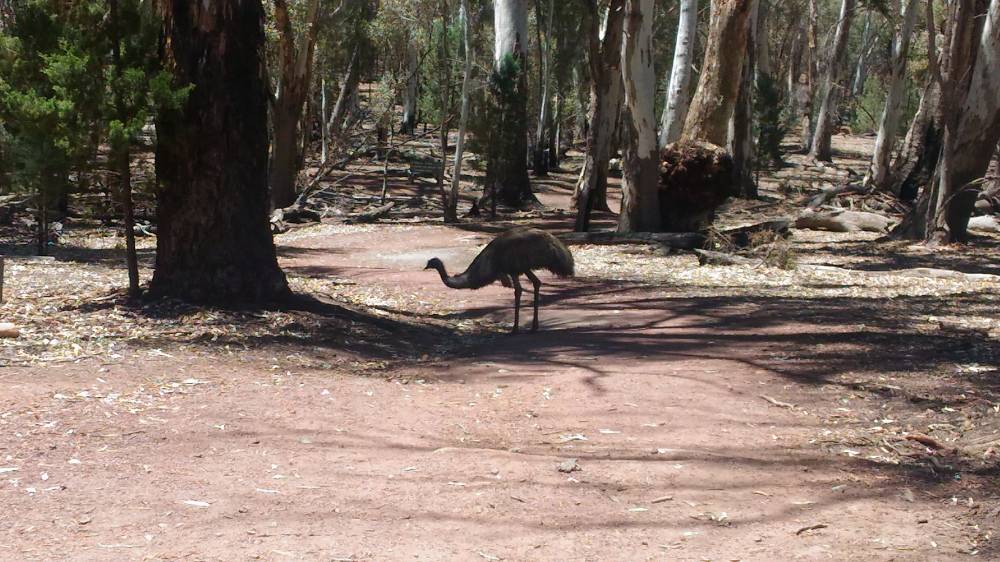 We saw quite a few emus including a flock of about a dozen that were too far away to photograph. We had previously seen only one lot of emu (including some small chicks) when we were on the road.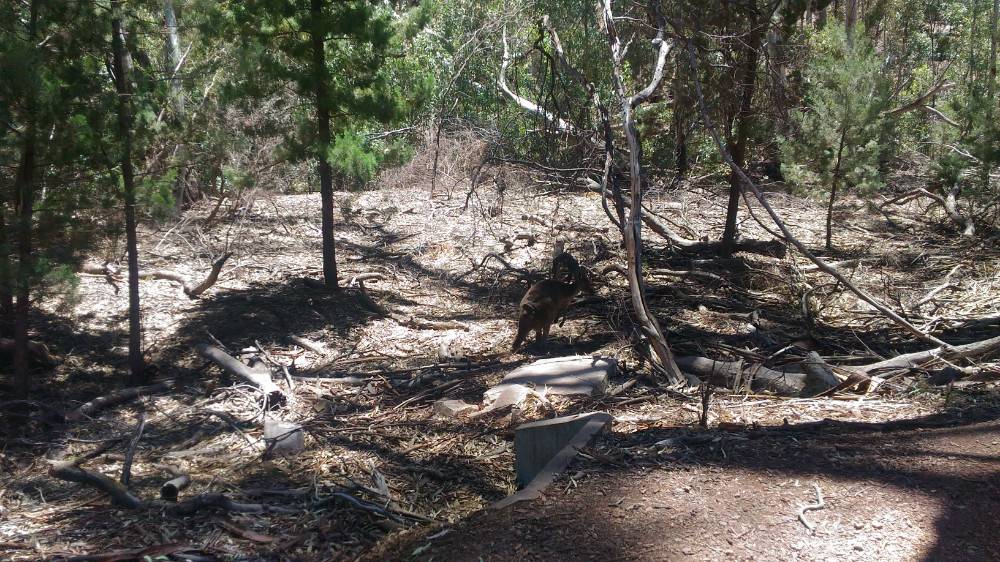 We saw plenty of kangaroos, wallabies, and euro(not loose change) including a yellow footed rock wallaby.