Bolzano and beyond
It was raining in Bolzano when we arrived, but it was only a short walk to our hotel and a lovely room overlooking the garden. We are in the South Tyrol and even though it belongs to Italy, you would never know it. There is no rubbish and everyone speaks German. We have replaced gelati (too cold) with apple strudel. The hotel kindly provides umbrellas, so we went for a stroll around the old city. It also stopped raining.
The town provided a march past of about five hundred citizens dressed in olden costumes with feathers in their caps. We have no idea why, but they also provided us with fireworks as we walked home from dinner. And what a dinner it was. When asked if we wanted a salad with the pizza and ravioli, we agreed, thinking it would be a few lettuce leaves, as is the custom in the south. Two salads arrived immediately, that were a meal in themselves, and priced accordingly. Soon after, Ray's giant pizza filled the table. We resolved never to eat again, at least until breakfast.
It was a chilly morning, but the sun broke through as we rode out of the car park the next morning. We had our usual discussion about getting out of the city, but finally found the bicycle track and a kindly lady pointed us in the right direction. Thinking the next 72 kms would be a doddle, we set off on the scenic route. It was all up for about 5 kms, but not hugely. We were riding in forest and it was quite magical, as when the wind blew, tiny leaves would fall, and it seemed that it was snowing.
We rejoined the track along the river after 20kms and with the wind behind us and the mountains on either side it was a very easy ride into Trento. The path was an old train line, it had been paved recently, so the route was smooth. However, there was not one toilet provided on the whole of the bicycle track. Rubbish bins and picnic tables were seen. We had to cycle off the path to visit a cafe, and search desperately on other occasions for suitable bushes. These were few and far between as the path was mostly above the surrounding bushes with high visibility and lots of pedal traffic.
our hotel in Trento was not mentioned in our directions guide, so luckily Ray could find it on his phone. It is practically a brand new establishment in a brand new area of town. We walked into the old town which has some remarkable old palazzos and were determined to find a local orange aperitif to try. However, it was so cold, we found a beanie for Ray instead. I also managed to purchase a pair of shoes that were on sale.
We walked back to the hotel so I could change into my new shoes, and decided to dine in the hotel as it was just too cold to go out again. Today we only ride for 50 kms (if we don't get lost) and then we have a four hour boat trip on lake Garda. What fun!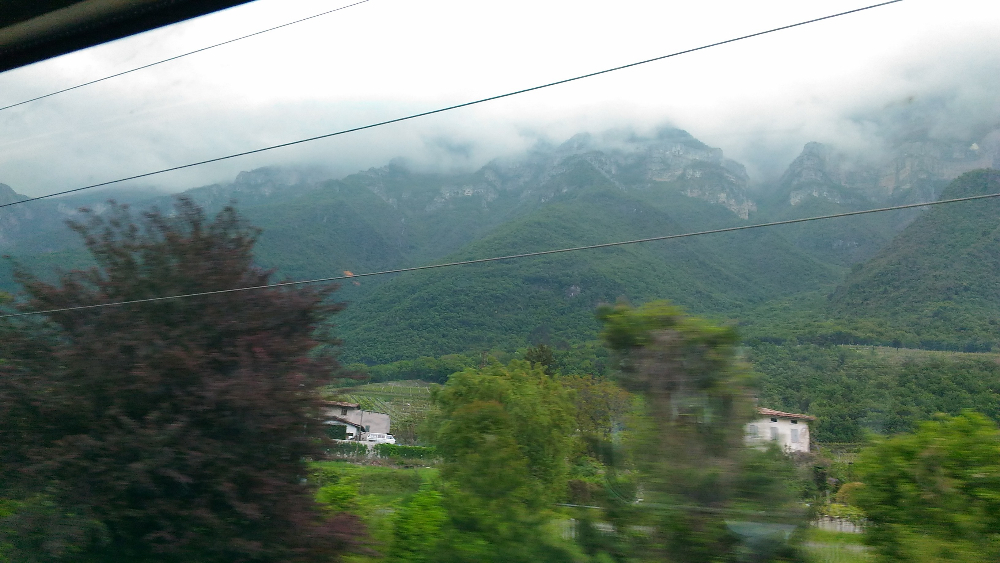 A little introduction to the high mountains from the comfort of the train. The mountains you can see are not the high mountains, as those cannot be seen for the mist.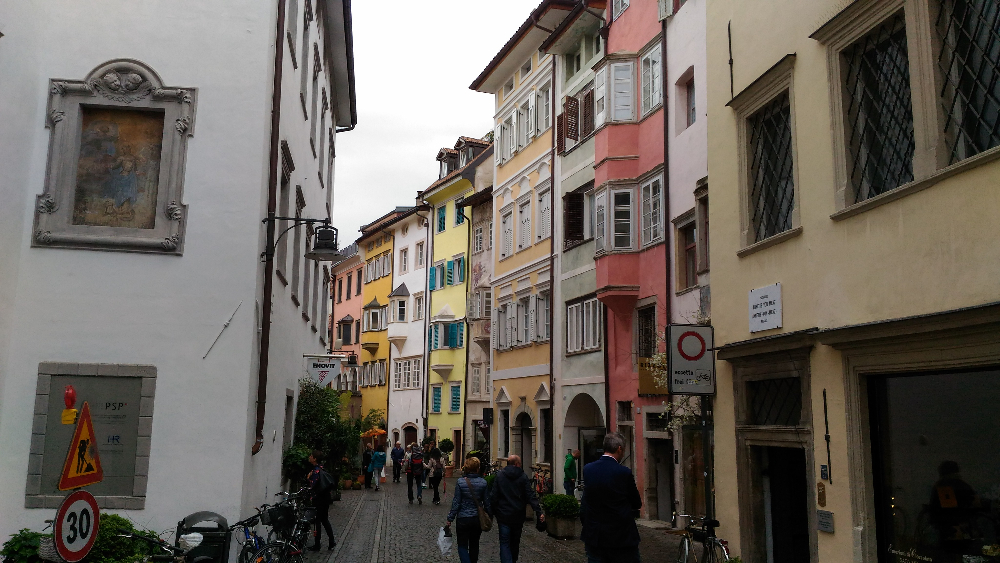 Balzano is more Bavarian than Italian. Most people speak German.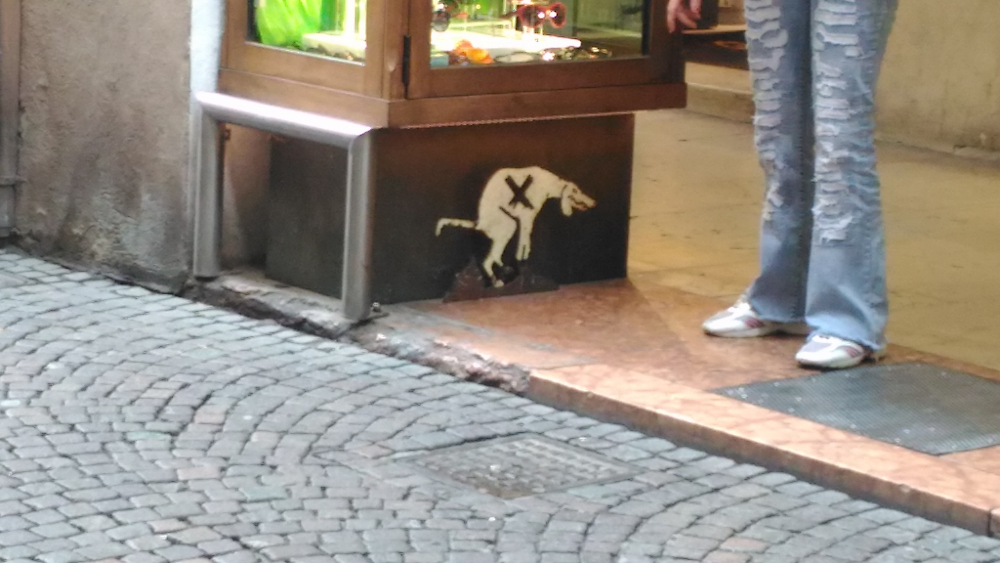 This metal sign was not a cast iron guarantee that anyone would take any notice.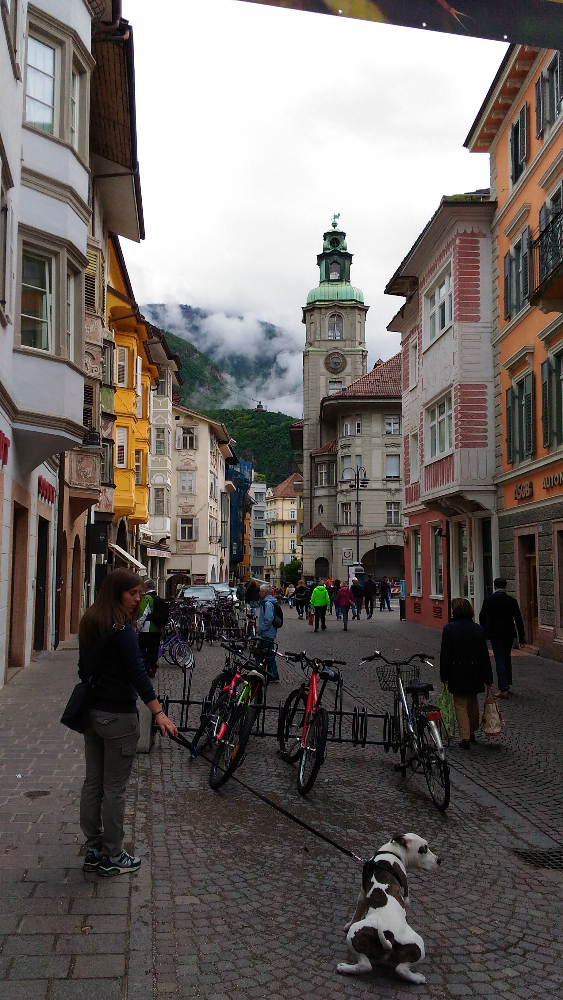 And right on cue...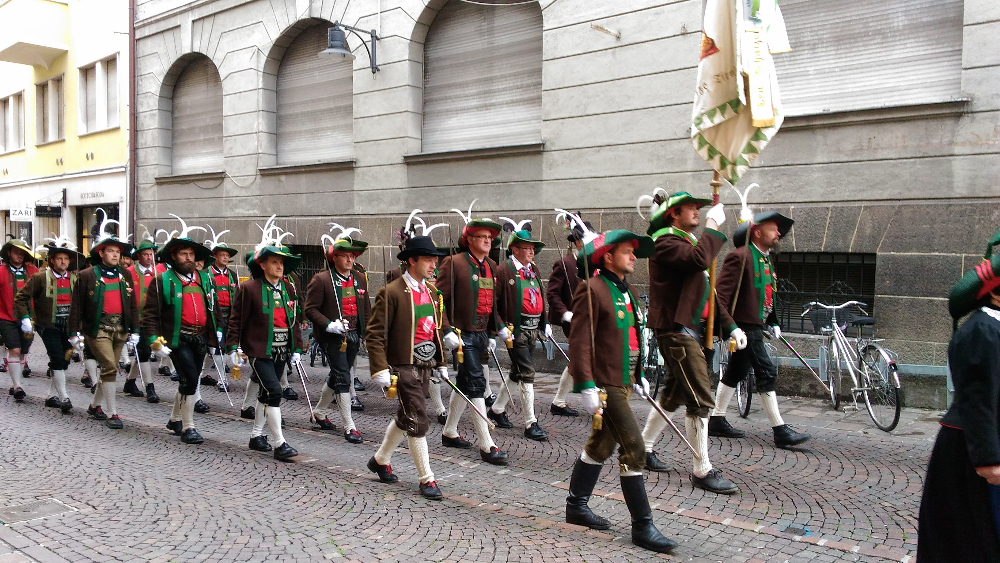 The 10th yodelling field brigade.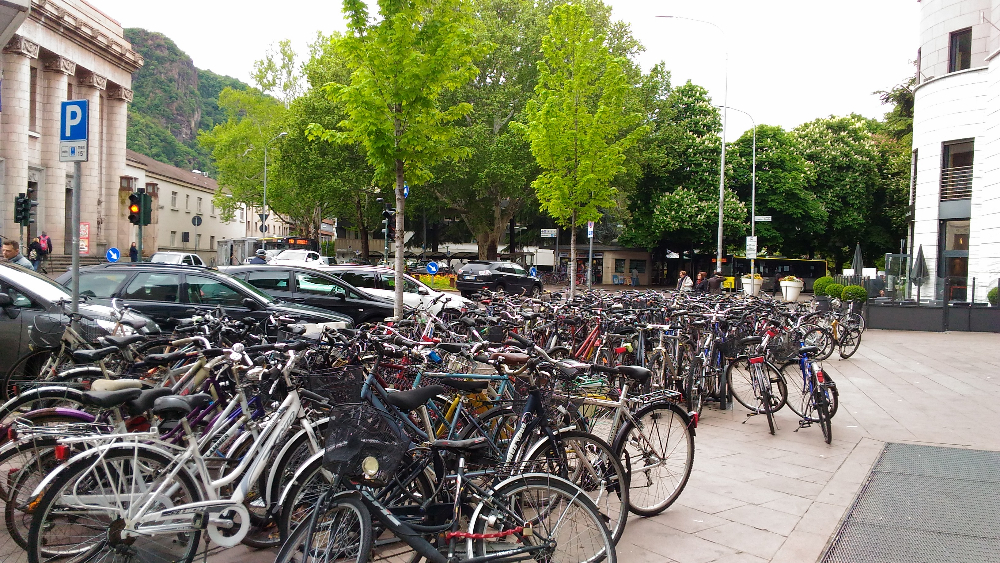 Now where did I put my bike?
ciao for now
Brenda and the tour guide