The end of the NZ road
We are bereft. Our bikes have just left us. No more sore bums or near death experiences. But we did manage to squeeze another ride in today, on our last day in Christchurch, and NZ. It was a very easy river ride (yes, apparently they do exist), along the Heathcote River to the sea, about 35kms return. It was a bit like riding along the Torrens. We were at a loss of what to do today, so a last ride seemed appropriate. Although I had misgivings about staying at Addington, about 4kms from the city centre, it has proved to be a great choice. Thanks Ray. It is foodie heaven with a wide range of restaurants within easy walking distance.
Last night we dined on Mediterranean/Moroccan food which was absolutely delicious. The only drawback was that we were unable to drink the wine that we had brought. Apparently, you need a licence to be BYO. Tonight we are going to a quirky Afghan restaurant, if it is open. It's also not BYO so we are pre drinking the wine from last night now. This morning we decided to have breakfast at Pedal Pushers, as it was rather appropriate, but it wasn't open. So we rode across the road to a cafe, which looked deserted, but on pushing open the door, it was packed with people. Great coffee and unusual pancakes with rose petals and lemon sorbet, but scrumptious all the same.
Tomorrow, we are heading to the airport at 4.20am (1.20am Australian time). Yep, daylight saving started on Sunday, much to our undelight, as we had to get up at 6.30am (really 5.30) to catch the bus back to Christchurch. I had spent a pretty much sleepless night, waiting for James and Rachel to return from the wedding. It was pouring with rain and windy to boot. They arrived home about 1.30am minus the car. A bus had transported them to and from the wedding. They had driven to the bus and thought they would catch a taxi home. Unbeknownst to them, there are no taxis in Wanaka after dark. So they had to walk in their wedding finery up the hill in the freezing wind and rain. I rode down the next morning, in the rain, and picked up their car for them.
We had spent a delightful day with the girls on the wedding day, taking them to Puzzling World where we wandered around the maze to find the towers, puzzled over puzzles in the cafe and worked our way through the endless illusions. James picked us up and dropped us in town, where the girls enjoyed their only icecream in NZ. After being blown up the hill into our warm haven, Abi insisted on a game of scrabble, which she promptly won with a little help from the opposition. After that, they got to clean up their playroom in preparation for leaving the next day. With a few dire threats from Grandaddio, it was accomplished quickly and efficiently. Thanks Rach and James, for inviting us over to look after them. We wouldn't have ridden 500kms and flown 5000 kms for anything less!
See you in Australia.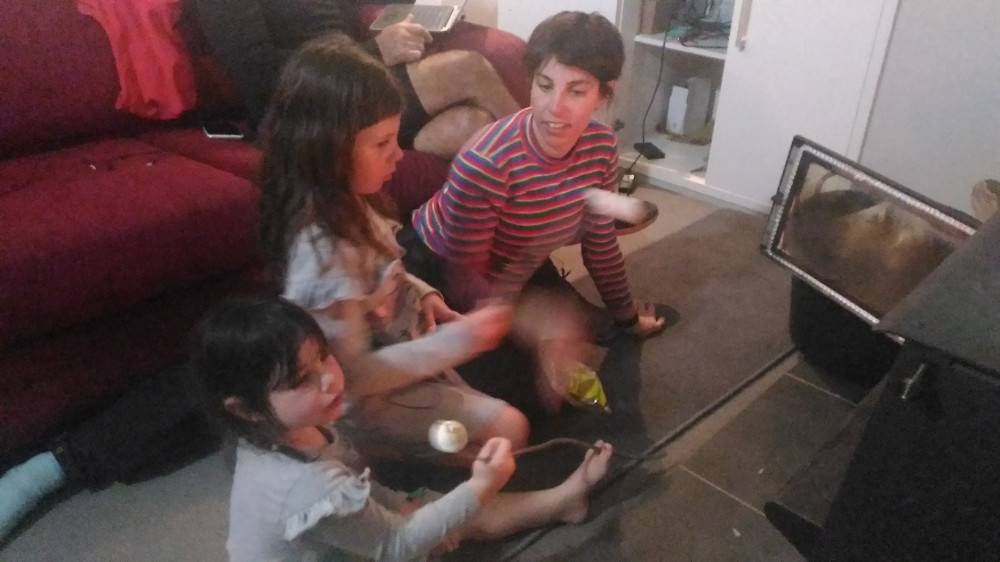 Rachel supervising the roasting of the marshmallows in the fire, by Abi and Rose. It was one of their holiday highlights.They searched for some suitable sticks throughout the day then put them to good use on a couple of the cold evenings. Rose is in pactise for doing it with her toes, although she may need to work on the hand technique a little more as the marshmallow often came out of the fire with a little charcoal on it.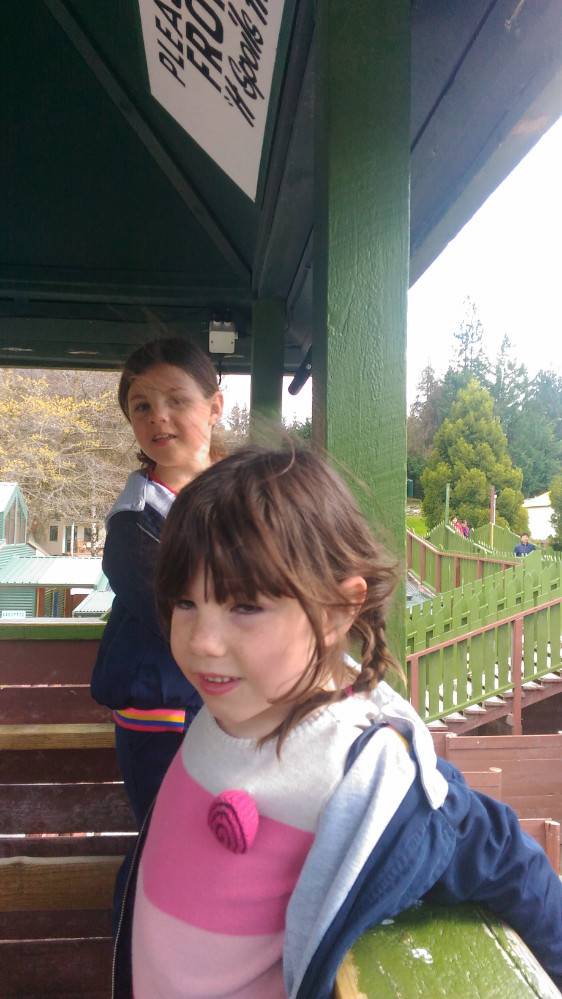 Did you know Puzzling World started the whole 3D maze craze way back in the 80's. I bet you were wondering where the hell it started. Well, that maze is still very tricky and the fact that many people have conquered the four towers (you need to visit one tower in each corner of the maze to solve the maze), it had not seeped into our conciousness, to help make it easy to solve. No kidding, my head was spinning after an hour of going down dead ends (oops, no exits) and arguing with Brenda on whether we had travelled that path before. So after reaching two of the towers and just prior to me figuring out how to get to a vital route, we adjourned for lunch and illusions.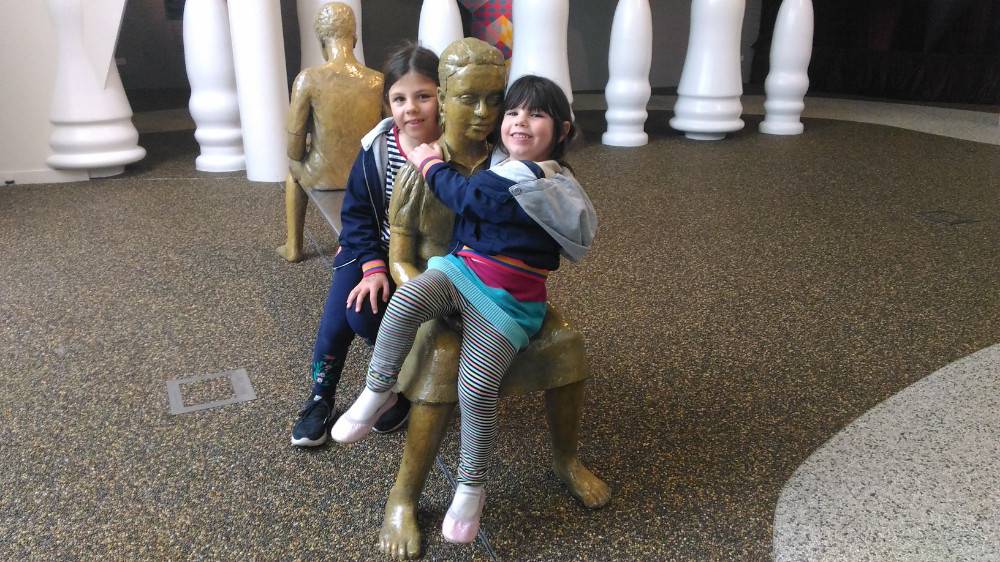 After lunch and some puzzle solving we had a good look at ourselves in the room of mirrors and many other rooms of illusion and trickery. We had some of the greats of human history (Beethoven, Lincoln, Van Gogh, et al) looking at each of us as we moved around the room of faces, and had trouble figuring what was up and what was down in the tilted room. By the time of this photo, we were just reestablishing our bearings. Here you have the seat with no legs (how does it stay off the ground?)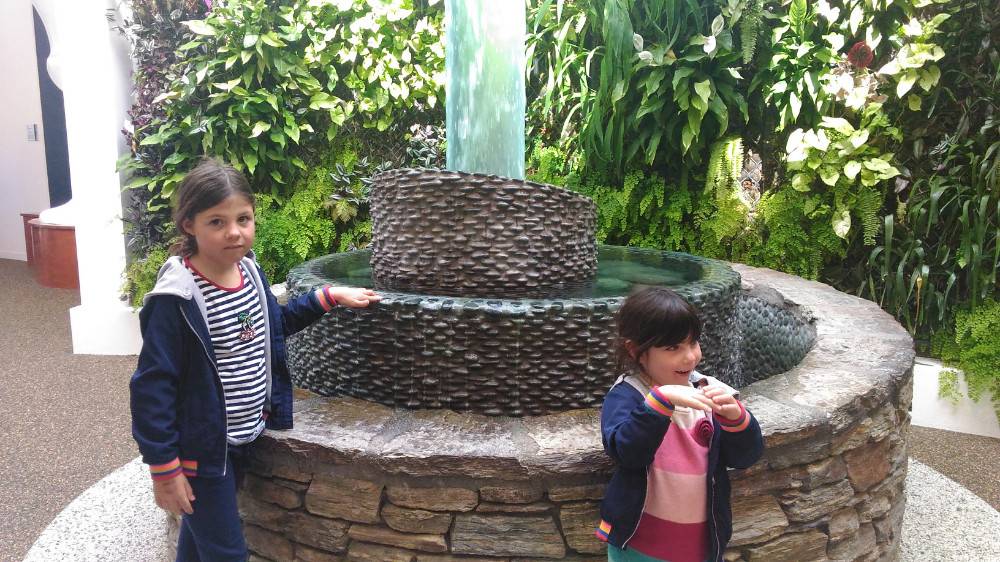 The giant tap with water puring out of the spout was too boring on its own so we had to get the little ones in. Just another example of child exploitation - anything to get clicks on our blog.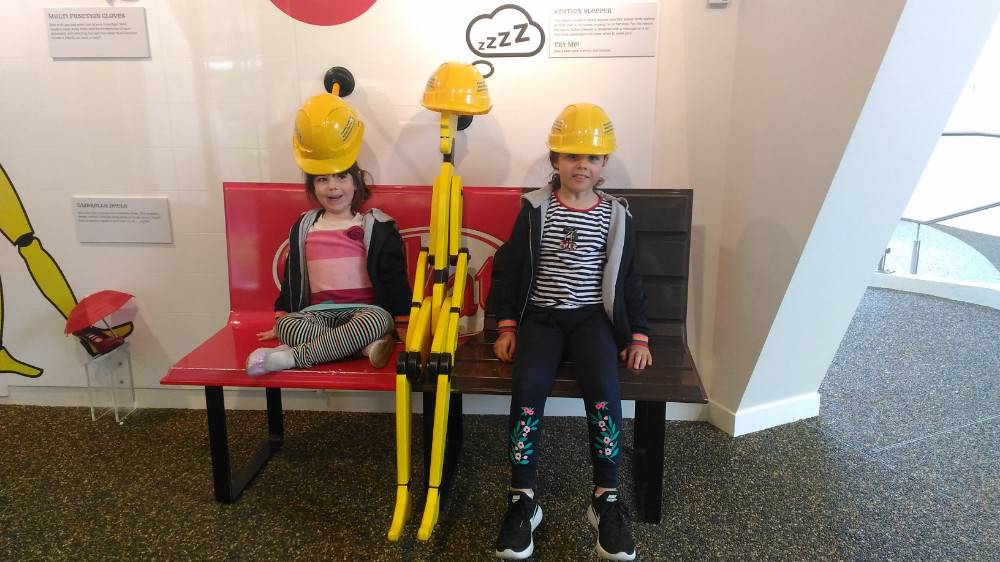 .
Wake me up when we get to .... Australia. Such a clever invention.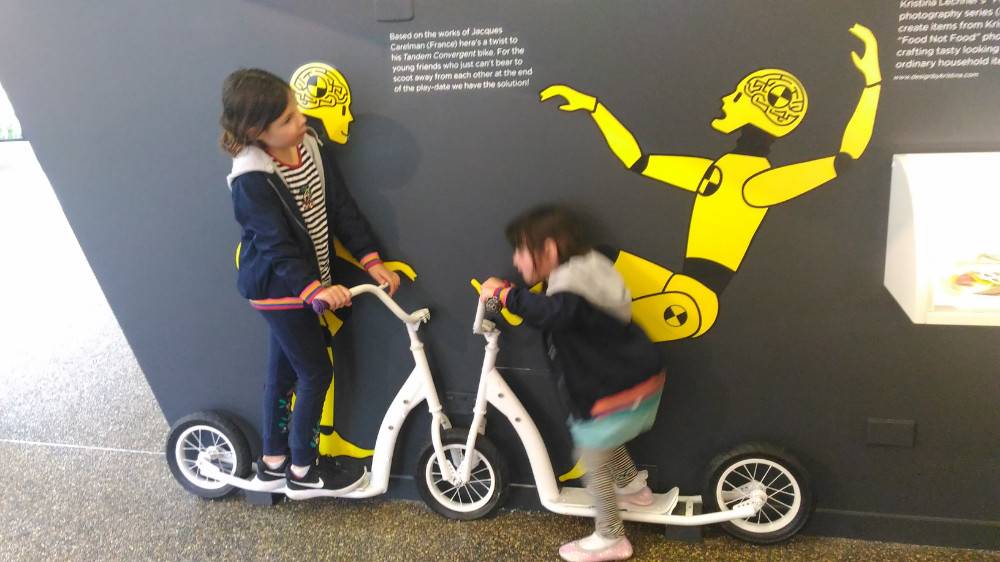 Here is one way to test out crash test dummies. (no, not Brenda and I)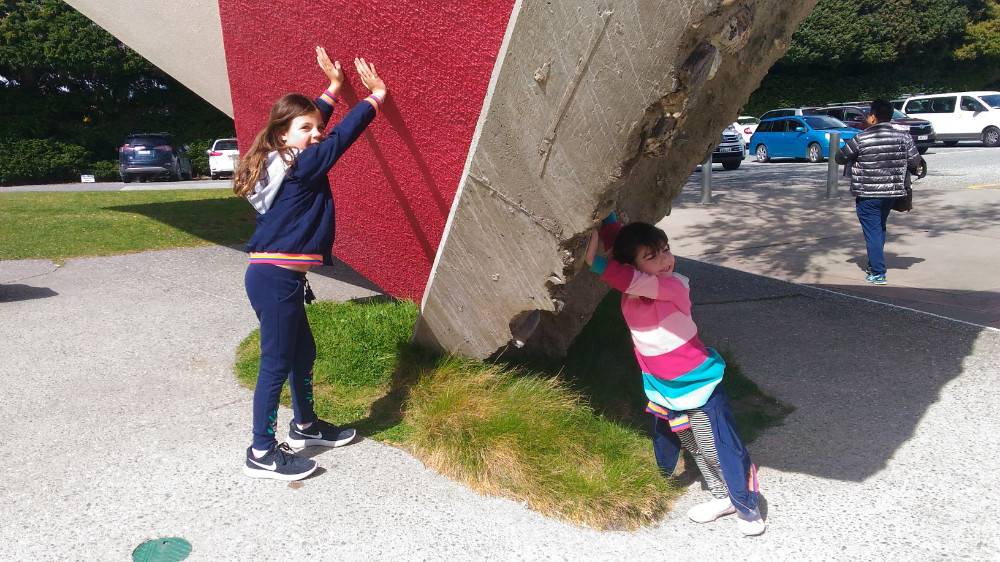 Put that building down you two!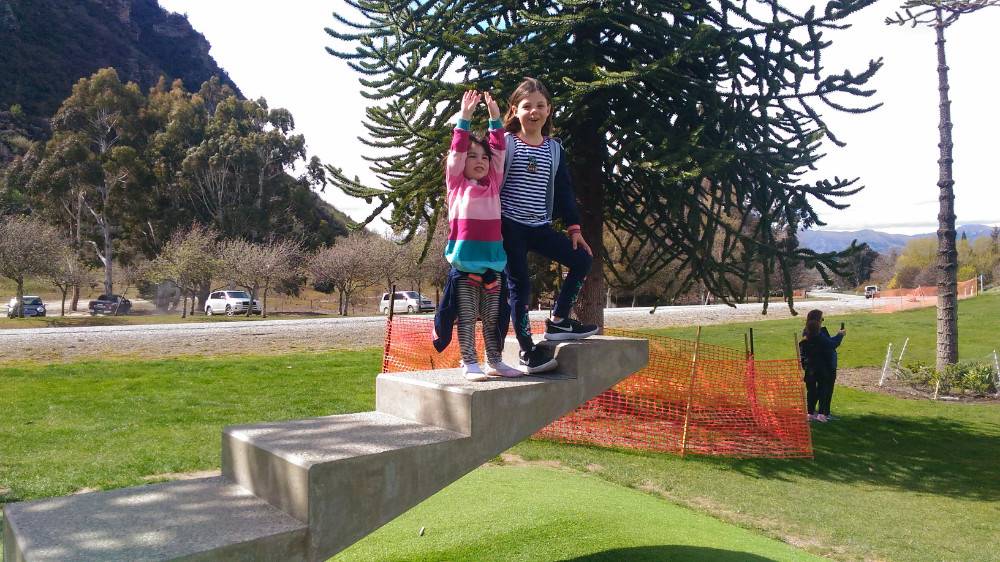 This ended it all. Not their lives or anything (there was a sign that said do not jump), just our day at Puzzling World, but not before we solved the maze by visiting the final two towers. Not only that, we finished them off in about 15 minutes.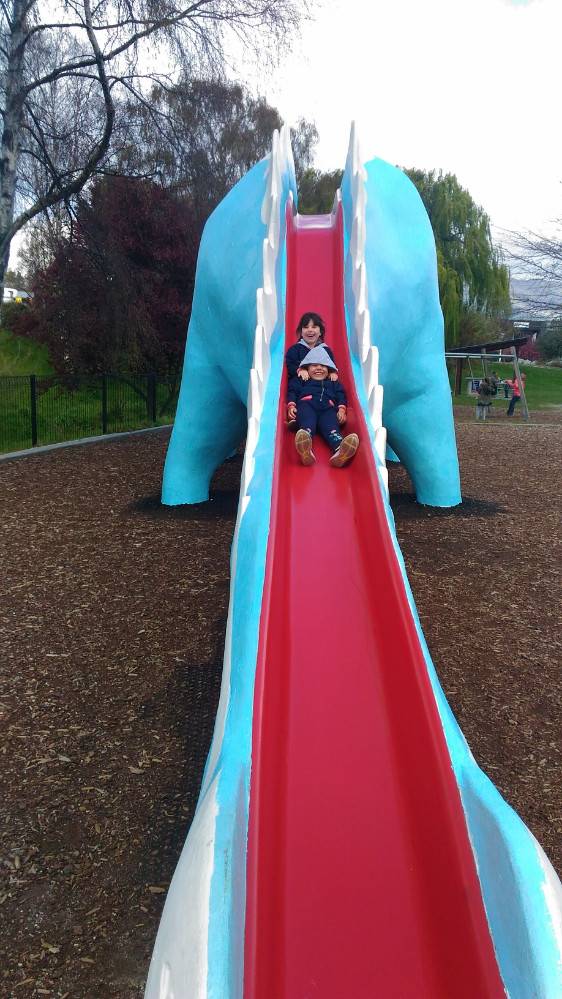 This is what it would be like if you were about to be swallowed by a dinosaur. Fortunately, the girls are coming down (ie, out) not going in. The dinosaur was out of action on account of being painted by a local artist. What you see here is only half of the paint job. Next time we visit we will be able to view the full work in all it glory.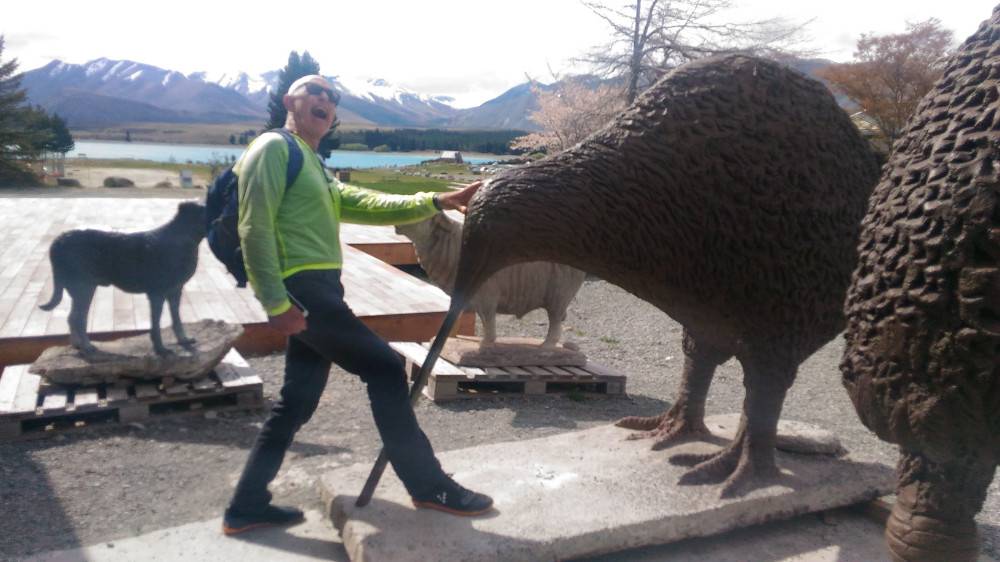 This giant kiwi took a liking to my leg and pinned me down briefly. Brenda soon dealt with it.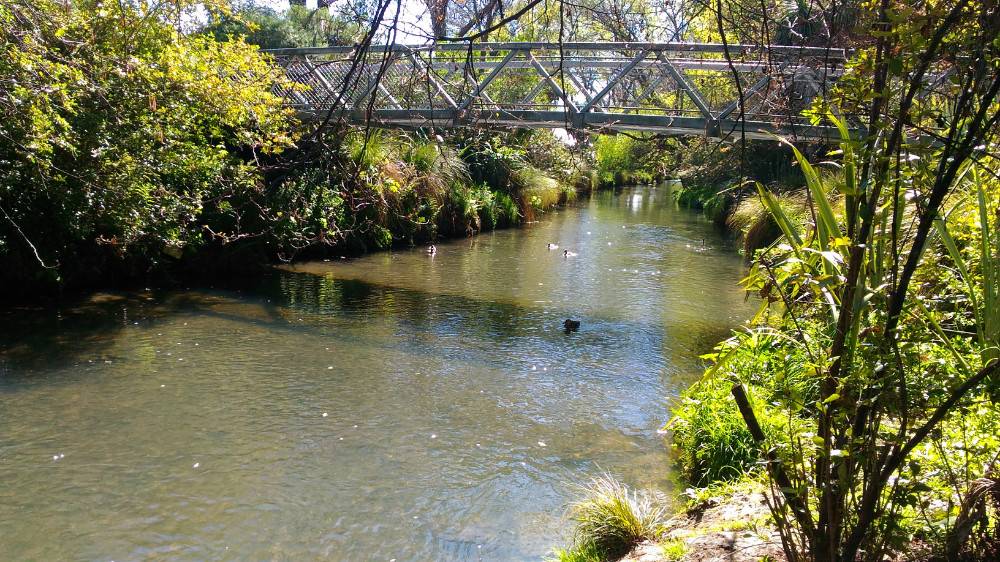 Never heard of the Heathcote River in Christchurch. This is why. It makes the River Torrens in Adelaide look like the Amazon.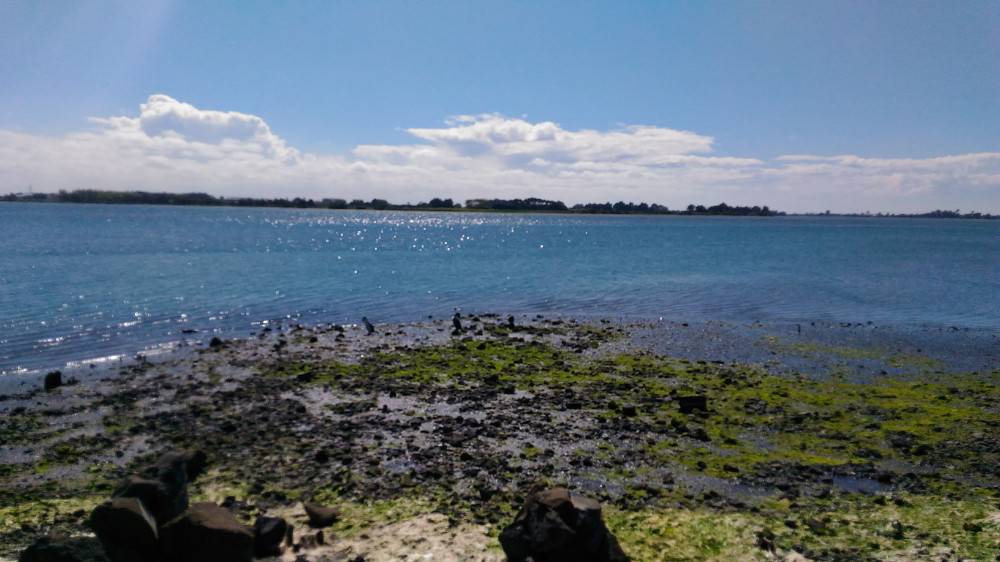 Known as the Estuary, it has the Avon flowing into it from the North and the Heathcote running into it from the south. This point was the site of Christchurch's first jetty (or one of the first - historical accuracy is not what this blog is known for, it is truthiness). It was destroyed in 1968 by the same storm that sunk the Wahine. (go look it up yourself, I know nothing more)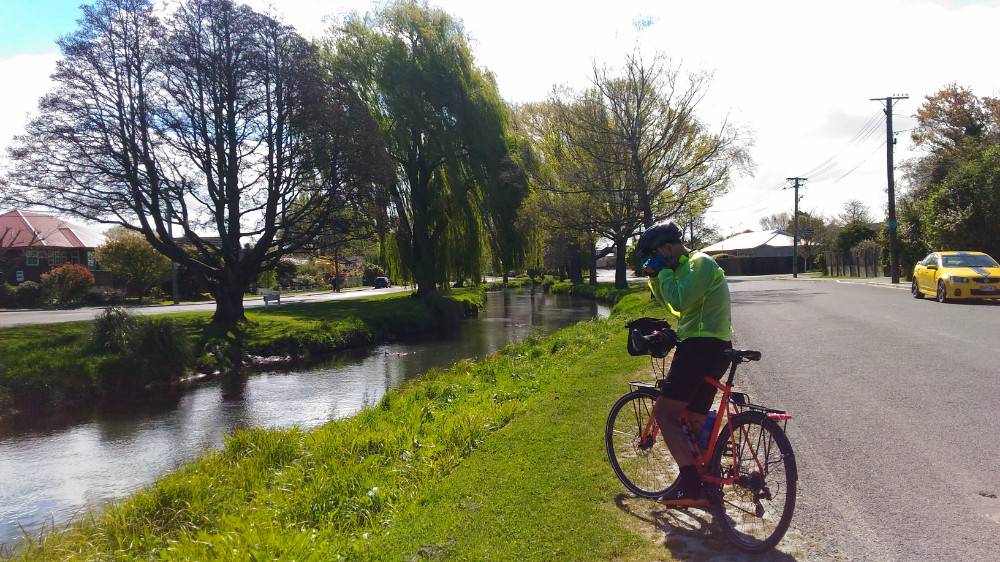 We are all weeping into the Heathcote because we have to come back to reality tomorrow. I pulled myself back together and made it back in time for our bike man to pick up the bikes.