Cycling Stories
We picked up our motorhome, complete with bikes, and couldn't wait to go riding. Free camping on the beach at Timuka gave us a chance to try out our mountain bikes on a goat track that ran at the back of the beach. LIttle did we know that the goat track would turn out to be one of the better tracks. NZ has a sign on the highways "NZ roads are different, so slow down". It should say "NZ roads are crap, and NZ bike paths are crapper". After staying near the beach in Dunedin in a five star park, to charge the van's battery, we took a ride up a steep hill, and ended up in the cemetery, ready to fall into a grave. But the views were spectacular. The next day we went free camping on the Otago peninsula, and traded $100 to watch the albatross fly about in the gale force winds.
I forgot to mention that when we flew into Christchurch it was a balmy 24 degrees, but by the time we reached Dunedin it was 10, with gale force winds and rain. So, as it was a bit dicy to ride, we took a walk up Flagstaff Reserve, a 660m hill behind Dunedin. We should have known it would be cold, due to the tell-tale snow lying around, but hey, we had nothing better to do, so off we tramped to the top of the hill. Surprisingly, there was no-one on the path but us! It reached 5 degrees up there.
I know this is nothing to do with cycling, but I just had to share my Ray story. We arrived in Christchurch minus the lead for his laptop, so the very first thing we had to do was track down a lead. After phoning some company in the sticks, we managed to catch a bus out into the dreary burbs (1 hour) only to discover that they did not have the lead in stock. We took another lead back, to see if it would work (it didn't work in the shop, so obviously it would work back at our unit). When it didn't work, and we could not get another one before we left Christchurch, we decided to buy a new laptop. Problem fixed. And then he sat on his glasses. Do you think we could find an optometrist in Oamaru? We did manage to find one in Dunedin. So $60 later, his glasses were fixed.
Yesterday we took a ride from Beaumont to Millers Flat, after a second-hand dealer (needed two wine glasses, as the motorhome didn't come with all the essentials) told us it was an easy ride and quite spectacular, running along the Clutha river. He was right, it was pretty flat, but the 24 kms into the gale force wind, together with the track being upgraded (ie piles of soft dirt strewn along the path) made it rather challenging. It took 2 1/2 hours to get there, but only 1 1/2 to return. My bike is a little large for me, so my neck was broken and my bum was rather tender.
Today we decided to just do a couple of short rides. So after spending the night free camping at Pinder's Pond (a large lake made by a gold prospector, who was convinced that after digging down 23 metres, he would make his fortune, but didn't) we rode into Roxburgh (only 6kms away) for coffee. I must say the coffee in NZ is really very good. We watched amazed as a bus full of Chinese tourists pulled up across the road and used the toilets, and then scurried off. We decided to give those toilets a go, and it was like stepping into the future. A voice from nowhere told me that I had ten minutes max to do my stuff, the door would not open, until you had washed your hands (not that I tried opening it without) and the toilet would not flush without washing. The toilet paper produced 3 sheets with the touch of a button, but I hadn't figured on the Chinese, nor had the machine, as the paper ran out after the first push! We made it back to Pinder's, and drove to Roxburgh Dam for an easy 22km return ride along the gorge. I figured it might not be so easy, as we started at the top of a hill, that switch-backed down to near the dam. If only we didn't have to return. Fortunately, Ray fine tuned my bike, so I could get into the lowest gear, and as we overtook some walkers near the last hill climb, I just had to make it to the top, It was a matter of pride. (Lucky they didn't see me fall off, when I misjudged a tricky turn).
Tomorrow we are off for more adventures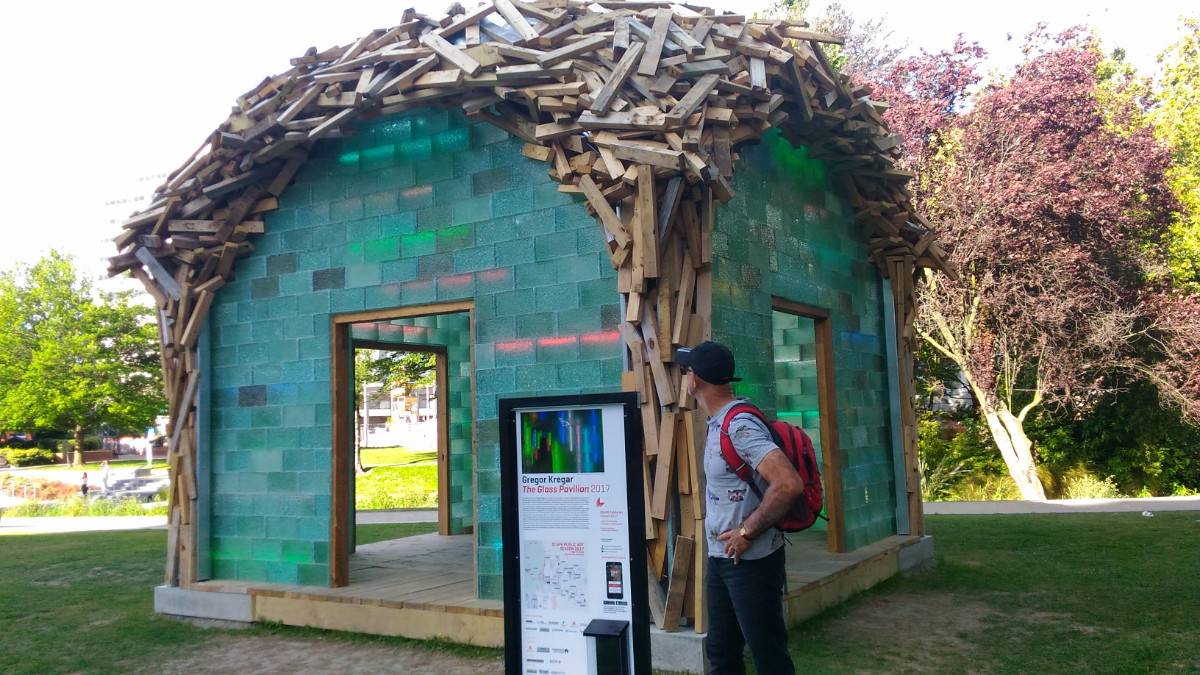 The fragility of Christchurch. The earthquake has resulted in a boom in jobs for artists.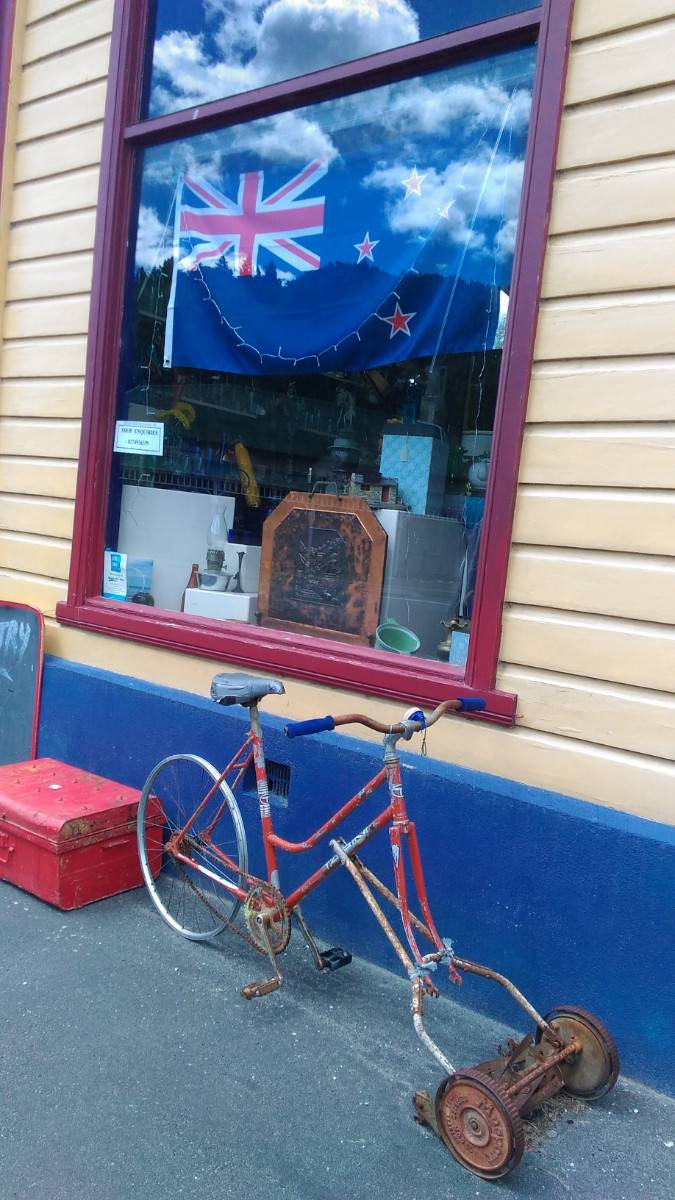 The kiwis are proud of their latest technology. You wil be able to buy one at Aldi very soon.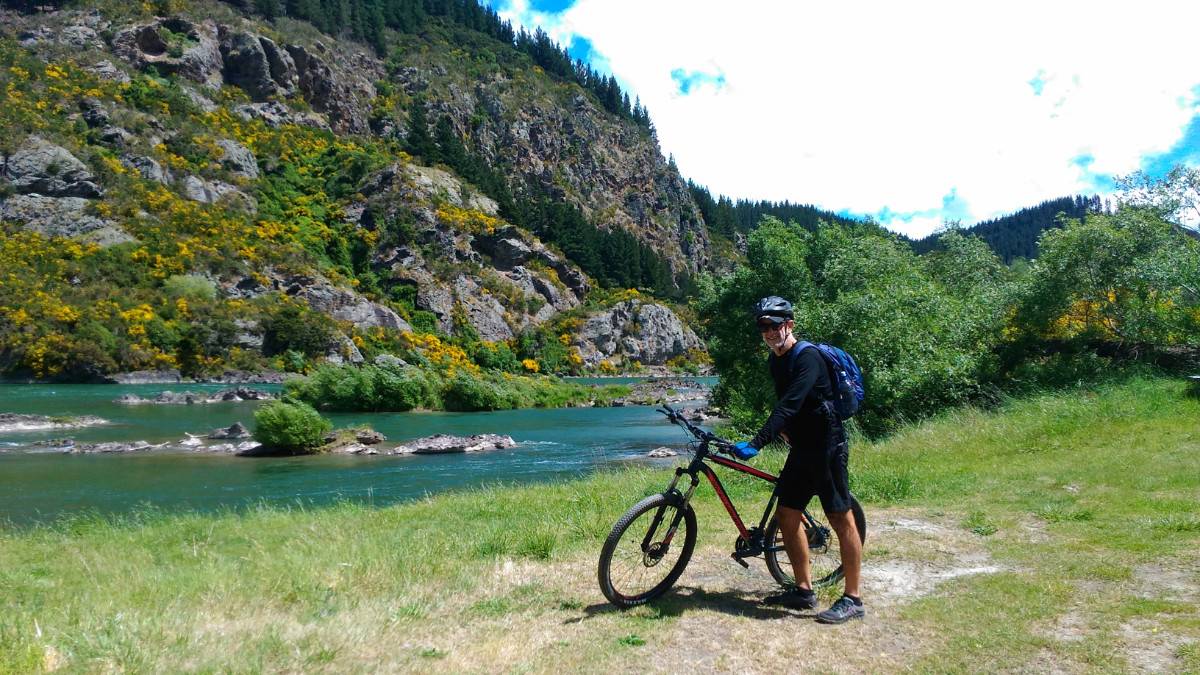 Gloved up and ready to rumble Beaumont to Miller's Flat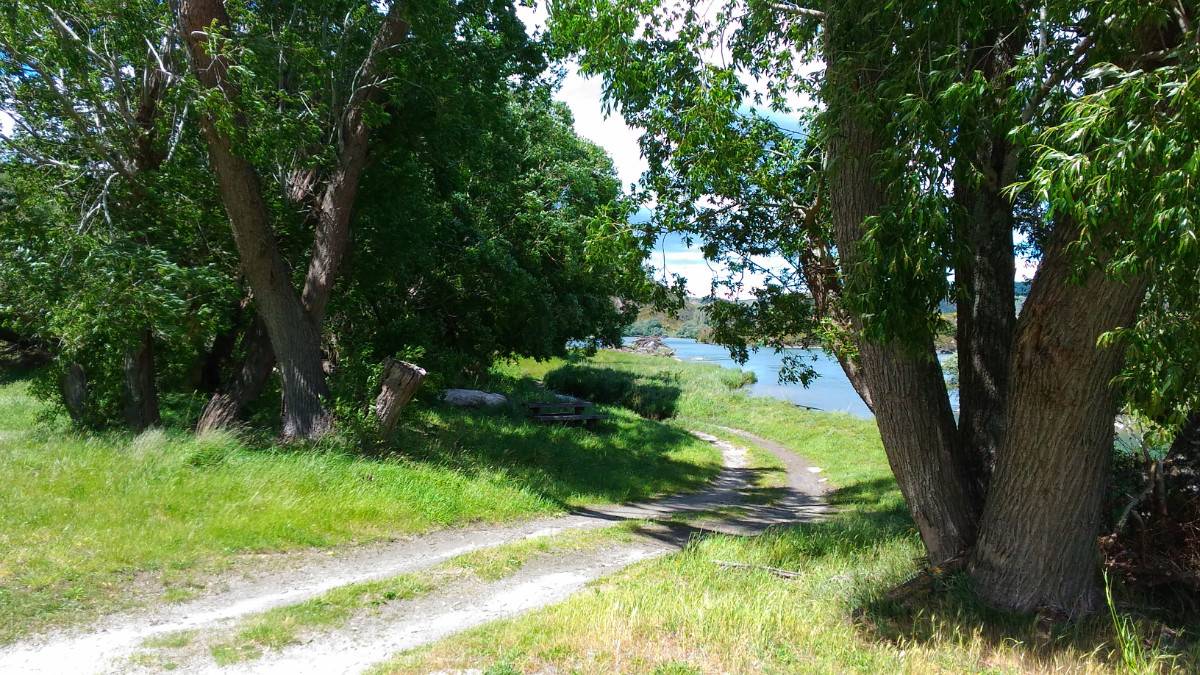 More of the Beaumont to Miller's Flat ride, part of the Clutha Gold trail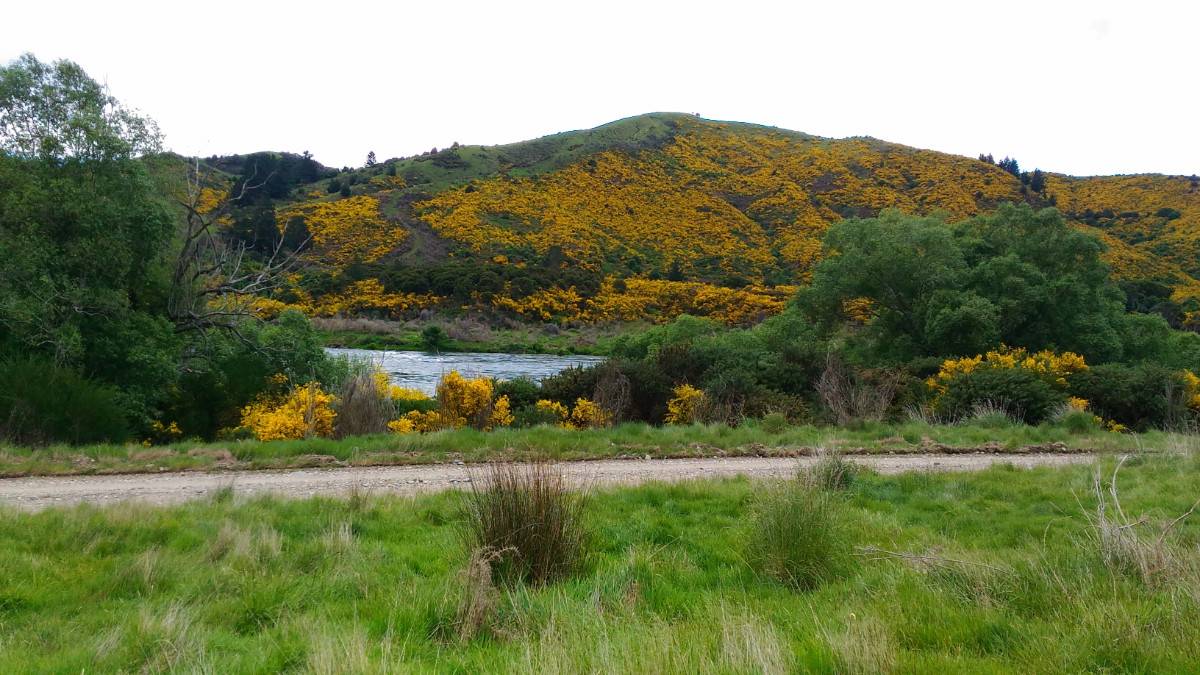 A bush call kowhai produces this beautiful gold flower. The bush is abundant in the south of the south island.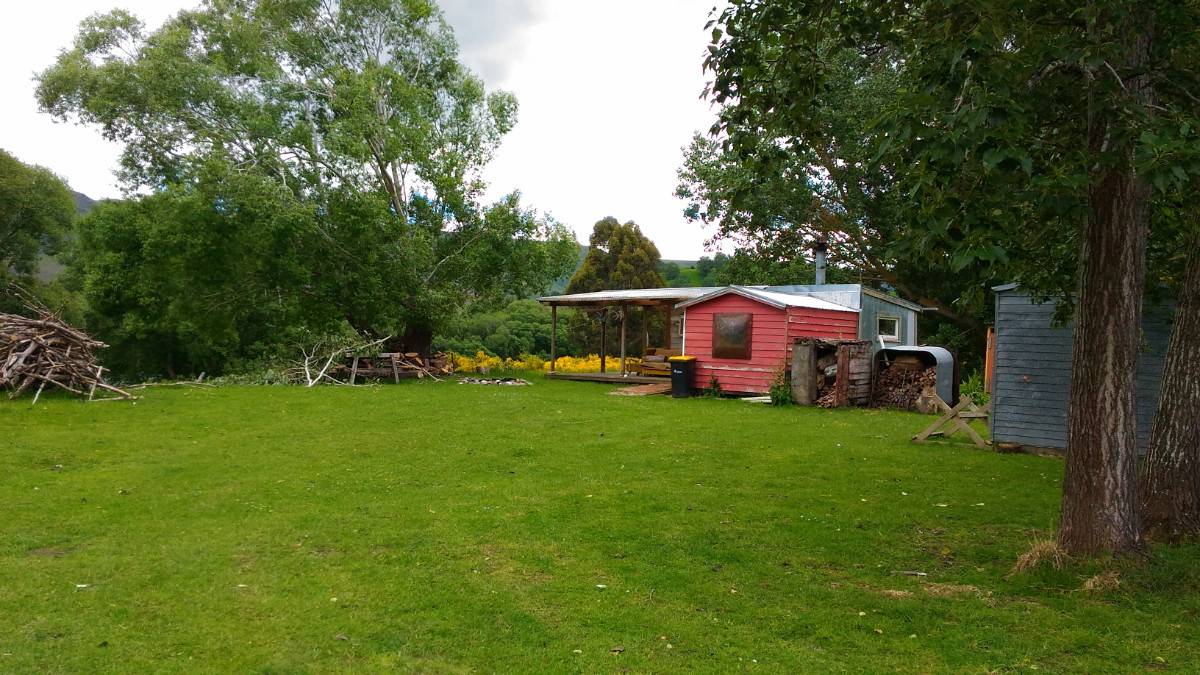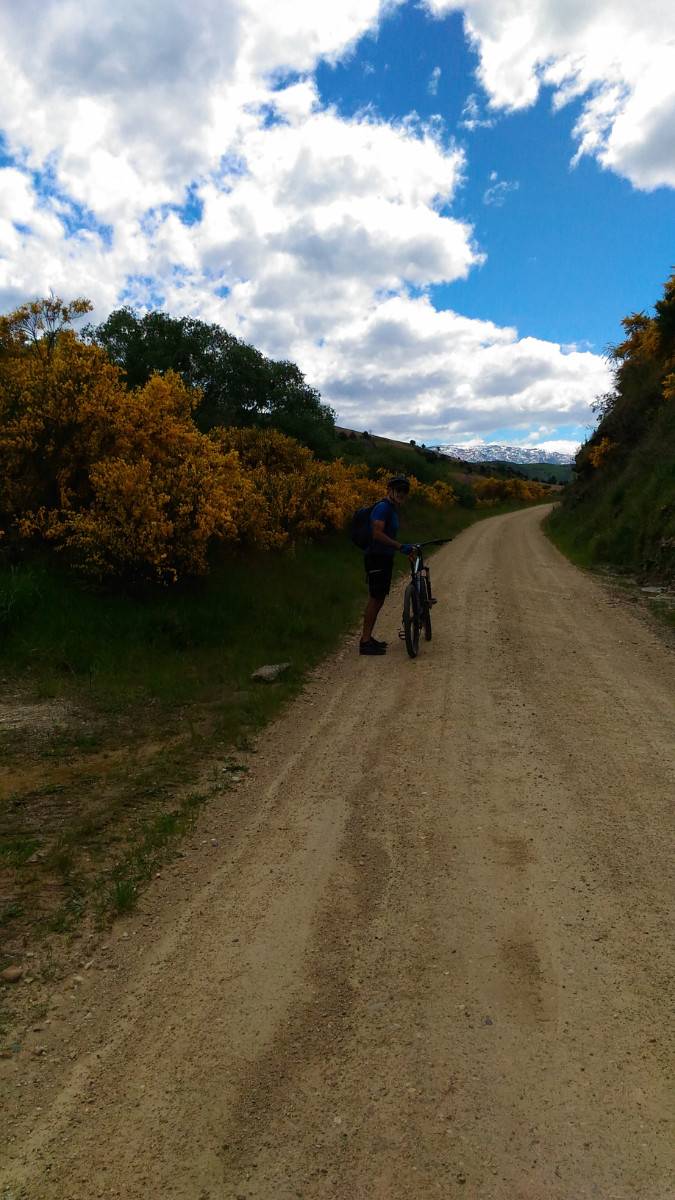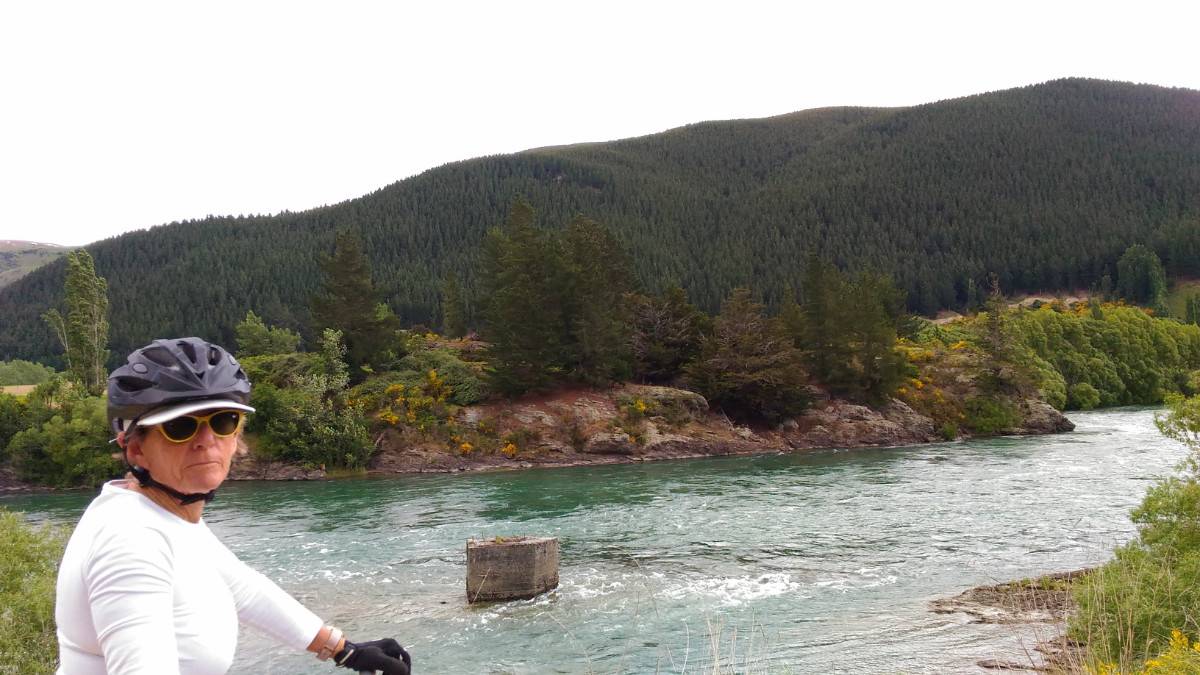 As you can see from the turbulence of the water, the Clutha River is a fast flowing river, despite it having a couple of pumped hydro power stations on it further upstream.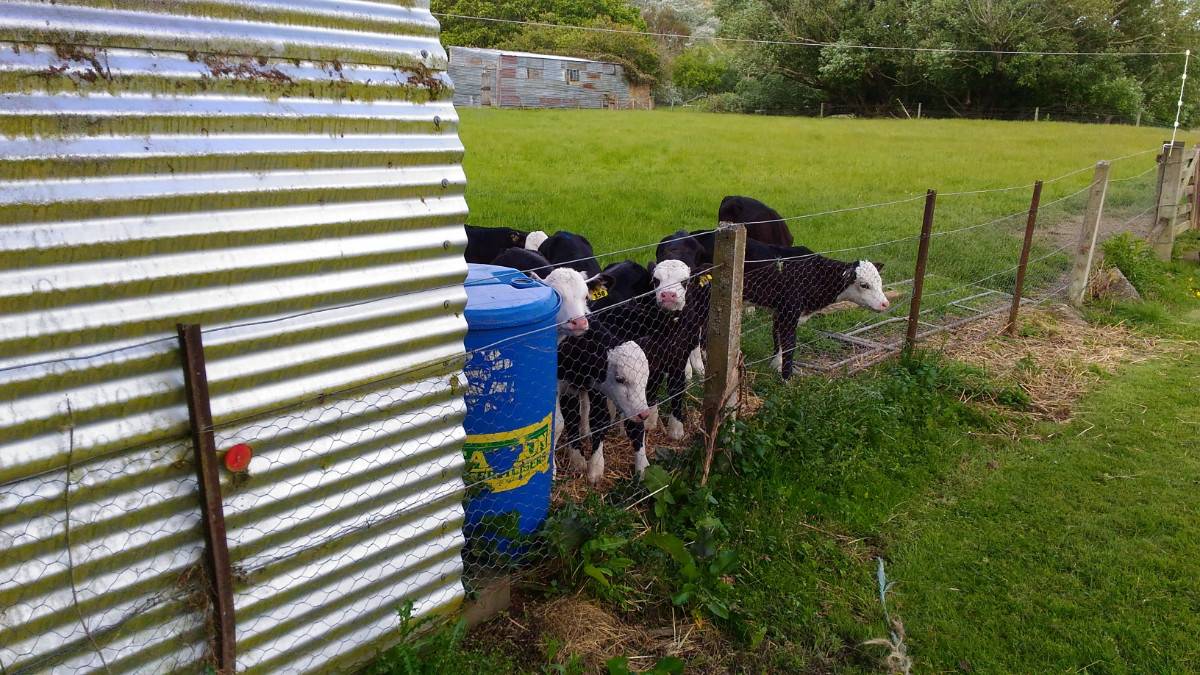 AT the end of the ride we made friends with some little bulls that were in a small yard in Beaumont.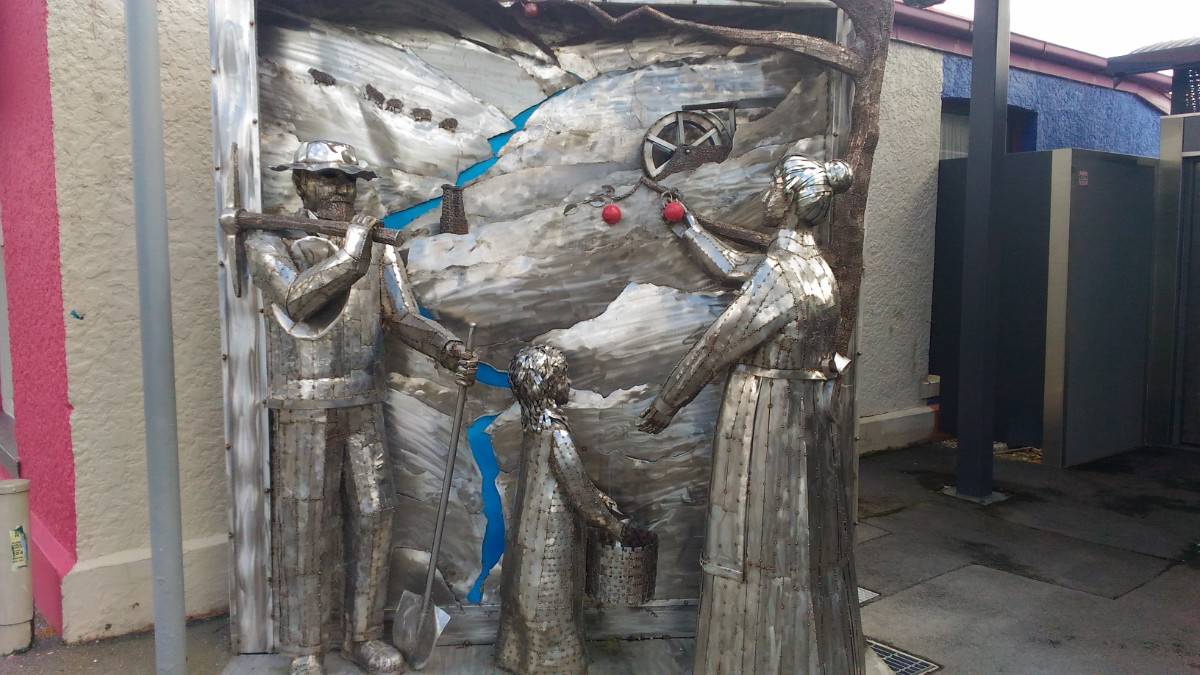 We had these olden days people guarding the futuristic dunnies in Roxburgh. I felt like i was in the movie Total Recall when stepping into them. After being instructed to finish my business in 10 minutes I discovered that three bursts from the toilet paper dispenser was all I needed to complete the job. My bum told me otherwise. At that point I wasn't sure about how long I had been in the joint, so i had to quickly put my hand under the automatic hand washing tap so so I could get out of the place alive.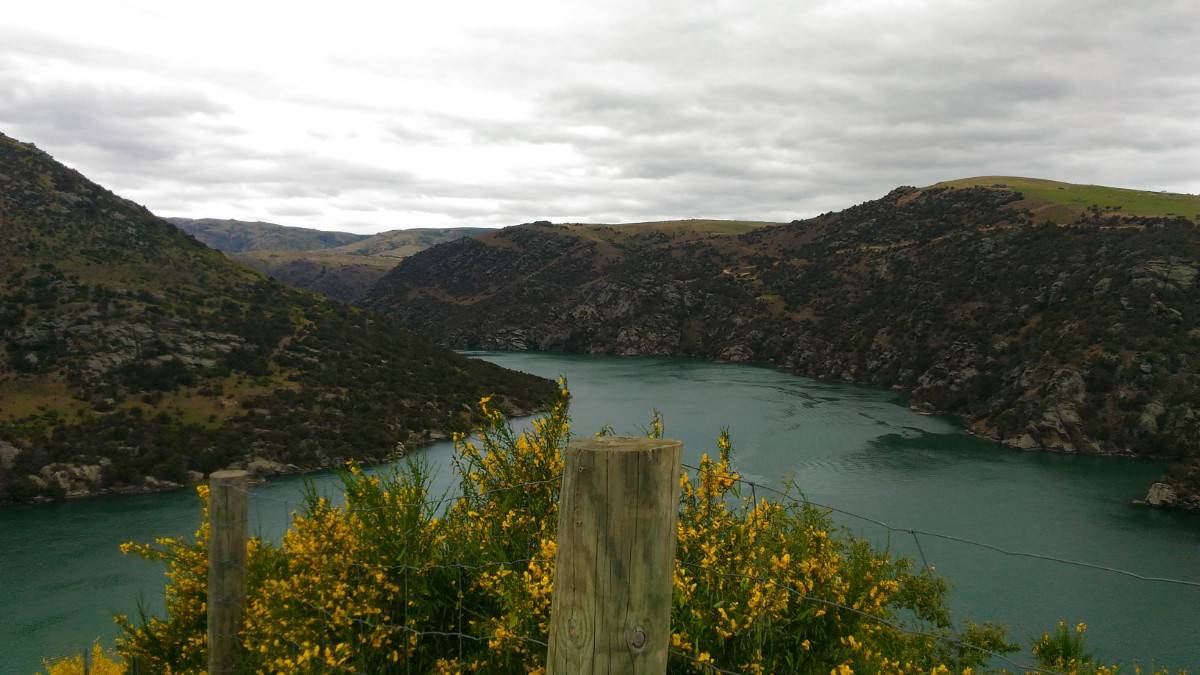 After escaping the terminator toilet, we did part of the Roxburgh Gorge Trail from Roxburgh Dam to Shingle Creek. It was impressive to say the least. For a simple riding trail it was quite demanding with the track attached to the side of the steep cliffs, going up and down gullies in a series of switchbacks all on the gravel track.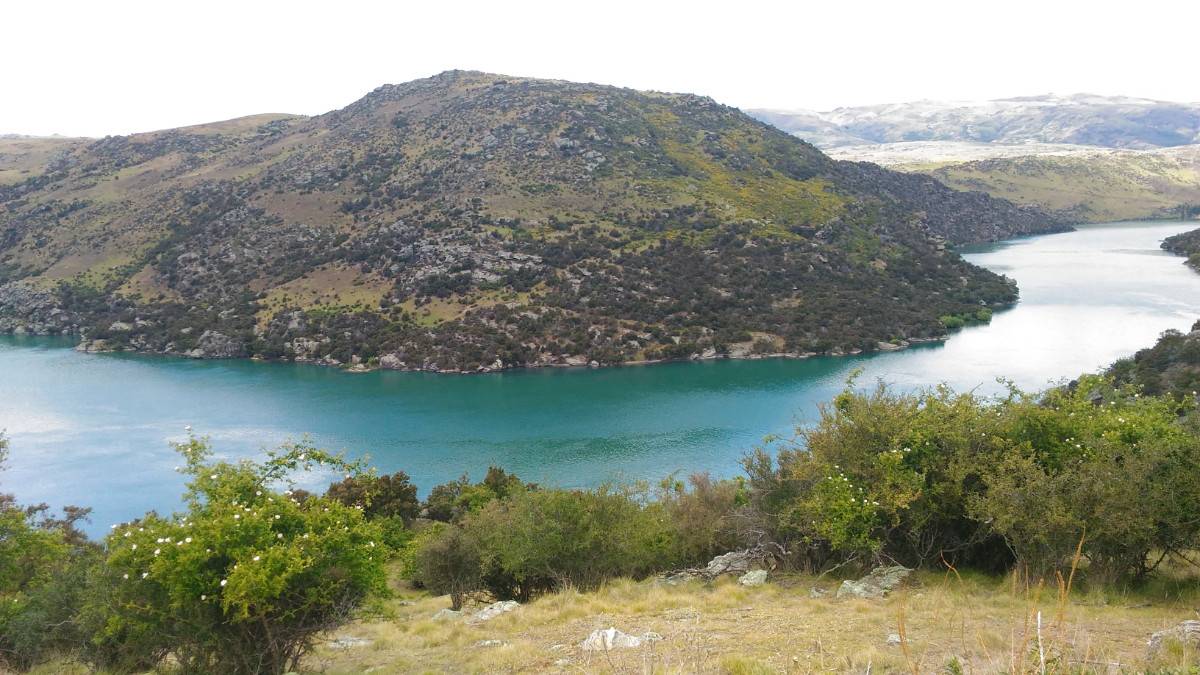 More of the Clutha River leading to the Roxburgh Dam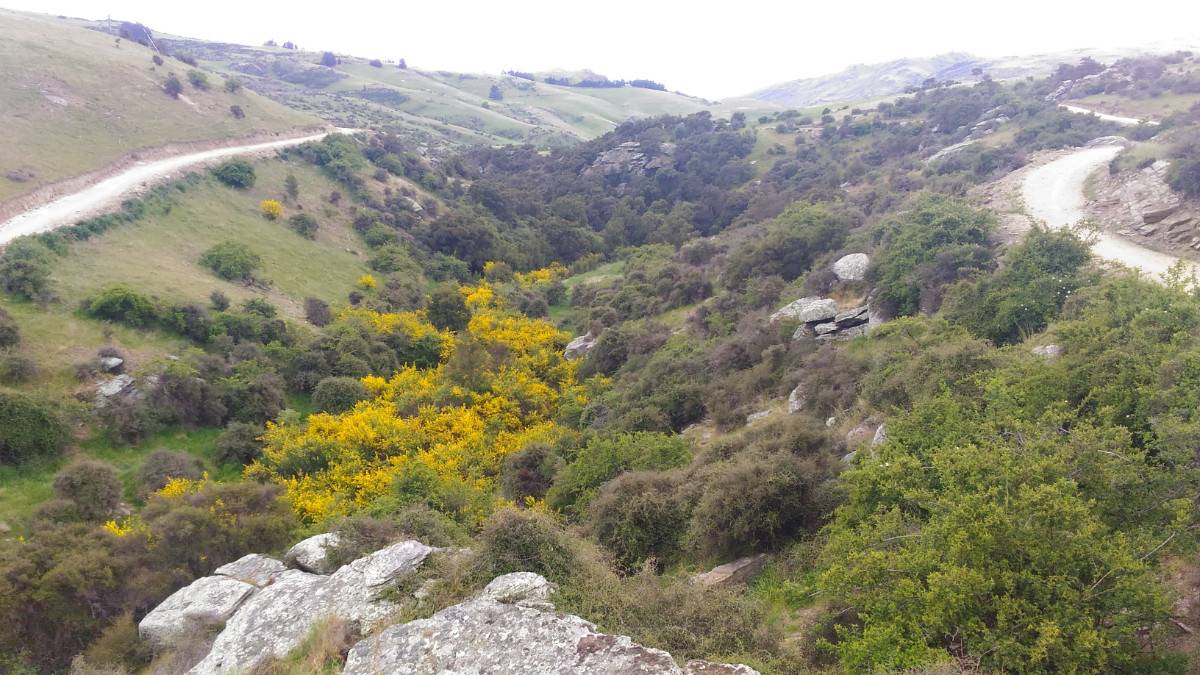 The trail coming up one side of the gully and going down the other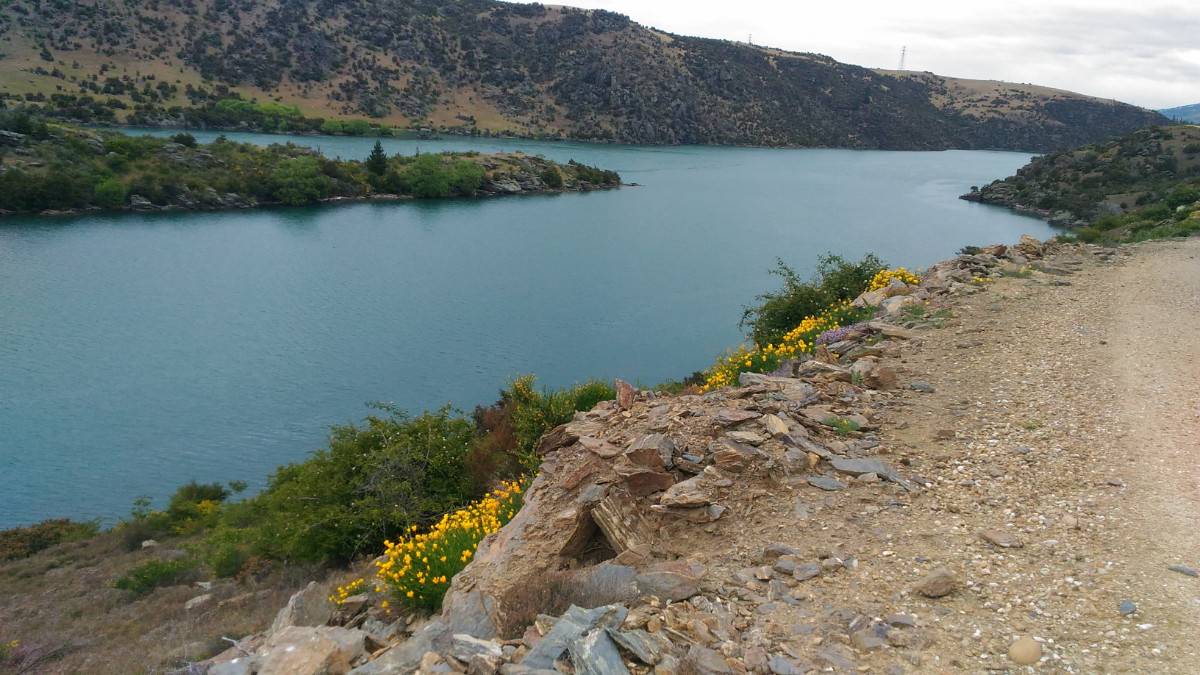 Don't go off the side!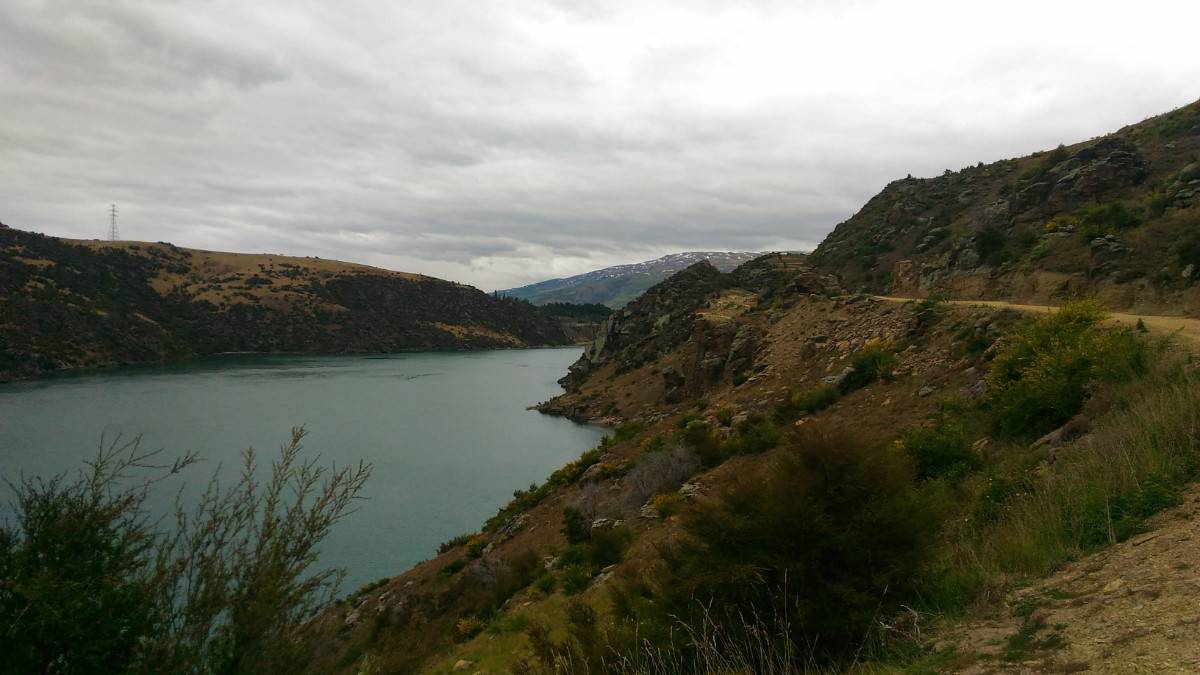 You can see the track winding it's way into the distance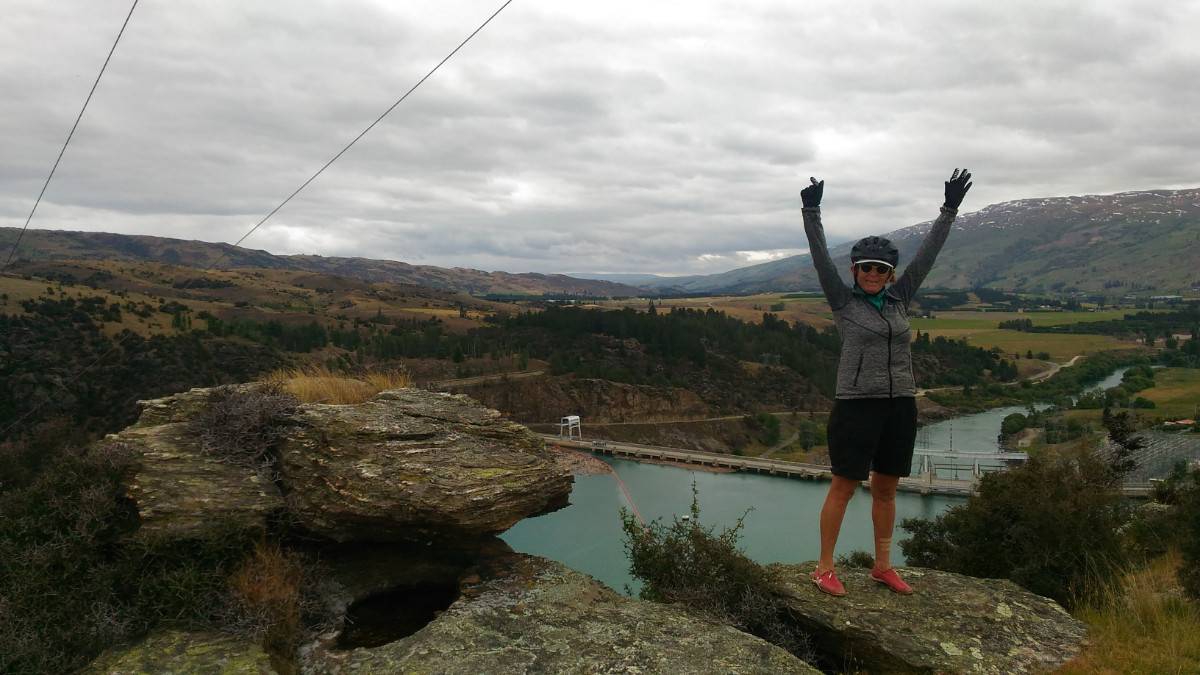 Made it up about 20 switchbacks without getting off! Brenda just about to jump into the dam.